WIll I buy now to get the best deal on a Volkswagen Golf?
Hi Paddy,
I love the site and your reviews for the irishtimes. Just looking for some advice. I'm buying a new VW Golf for January delivery. First time buying a new car. I'm getting the Edition-R 1.2TSI 105bhp with some options like MFSW, privacy glass and auto lights/wipers. Have you any tips for haggling with dealers?
I've shopped around to about 5 of them and the price in Dublin is much the same - none of them would budge, cost to change for me is about €21k (though I have been offered a better trade in price outside the pale). Also, I was told that Volkswagen are holding a dealer conference in October where some changes are likely to be introduced to the range, and also that VW may increase their 5.9% finance rate - have you heard anything about this or know what kind of spec changes are coming for the Golf? Would I be better off ordering before then and getting the dealer to hold it for me?
Many Thanks, Eoin.
Filed under choosing new car - Asked by Eoin S (Dublin) - Sun, 21 Aug 2011 13:13
---
Answer
Hi Eoin,
I'm glad you like the site. Firstly, let me congratulate you on choosing a nice car. I had a Golf Edition R recently and it was a really lovely car. The spec is really good on that car and you seem to have chosen a nice few options on the car.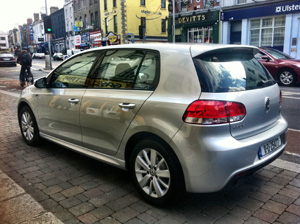 There are a couple of things that you mention there and it is tricky to answer them. Volkswagen are unlikely to announce anything from their dealer conference until after their dealer conference. I'm not sure where you get your intelligence but we can certainly investigate. In terms of your deal, the usual advice applies - you need to focus on the cost to change and not how much your own car is worth, which you appear to be doing and given that you aren't changing your car until January it can be difficult for the car dealers to price your trade-in. My advice to you would be to put down your deposit, arrange your deal and make sure that your terms are agreed. If there is any change which would favour you then you can renegotiate, but at least if it turns out to be as you suspect, then at least you will have secured the best possible rate. 
The other bit of advice I would give, is if your trade-in came from say, a Peugeot dealer, then go back to the Peugeot dealer and offer him the deal. Most dealers can buy in the car you want and they might offer you a better deal on your trade-in. That would be worth a try. 
I hope this helps. Feel free to come back to us if you need more help, we are always here!!
Answered by: Complete Car Adviser