---
Published on February 17, 2023
Please note: All of these finance options were correct, as advertised by car manufacturers, importers, or dealers, at the time of writing, but car finance is constantly changing, and the final rate you get and repayments you'll need to make will depend hugely on your own circumstances. Never take out a finance product that you cannot afford to pay back and always seek professional, unbiased advice before committing to any car finance product.
---

More car buyers than ever in Ireland are considering car finance of some description, especially those buying new cars. Hence, the monthly cost of a car is arguably of more importance than the outright purchase price. With all that in mind, we've picked ten different cars that you could potentially have on your driveway for a sum of about €500 per month.
1. New Toyota RAV4 PHEV on PCP
List price: €54,170
Monthly repayment: €471.80 (as per example)
Purchase type: PCP
Interest rate: 6.9 per cent
Toyota's RAV4 plug-in hybrid is, at the time of writing, the single best plug-in hybrid (PHEV) you can buy. How come? Simply because nothing else offers the same combination of electric range and long-haul fuel economy for the price. The standard PHEV experience goes something like this: get a realistic 30km against an official 50km electric range, and then see your fuel consumption balloon to 8.0 litres per 100km when you need to do a long motorway run. In the RAV4 it's different - against Toyota's official 74km electric range on a full charge, 50km is easily done and you should get 60km with a little care and attention. Then, when you need to do a long drive, its consumption stick to 5.4 litres per 100km and refuses to budge - we know, as we've tried it and even deliberately abused it trying to get the RAV4 to be thirstier. But nope, it just wouldn't. The rest of the package is good too, including a roomy, beautifully made cabin, a big boot, exceptional comfort, Toyota build quality and, when you put your foot down, there's up to 306hp to play with.
Read our review of the Toyota RAV4 PHEV
2. New Volkswagen Tiguan on PCP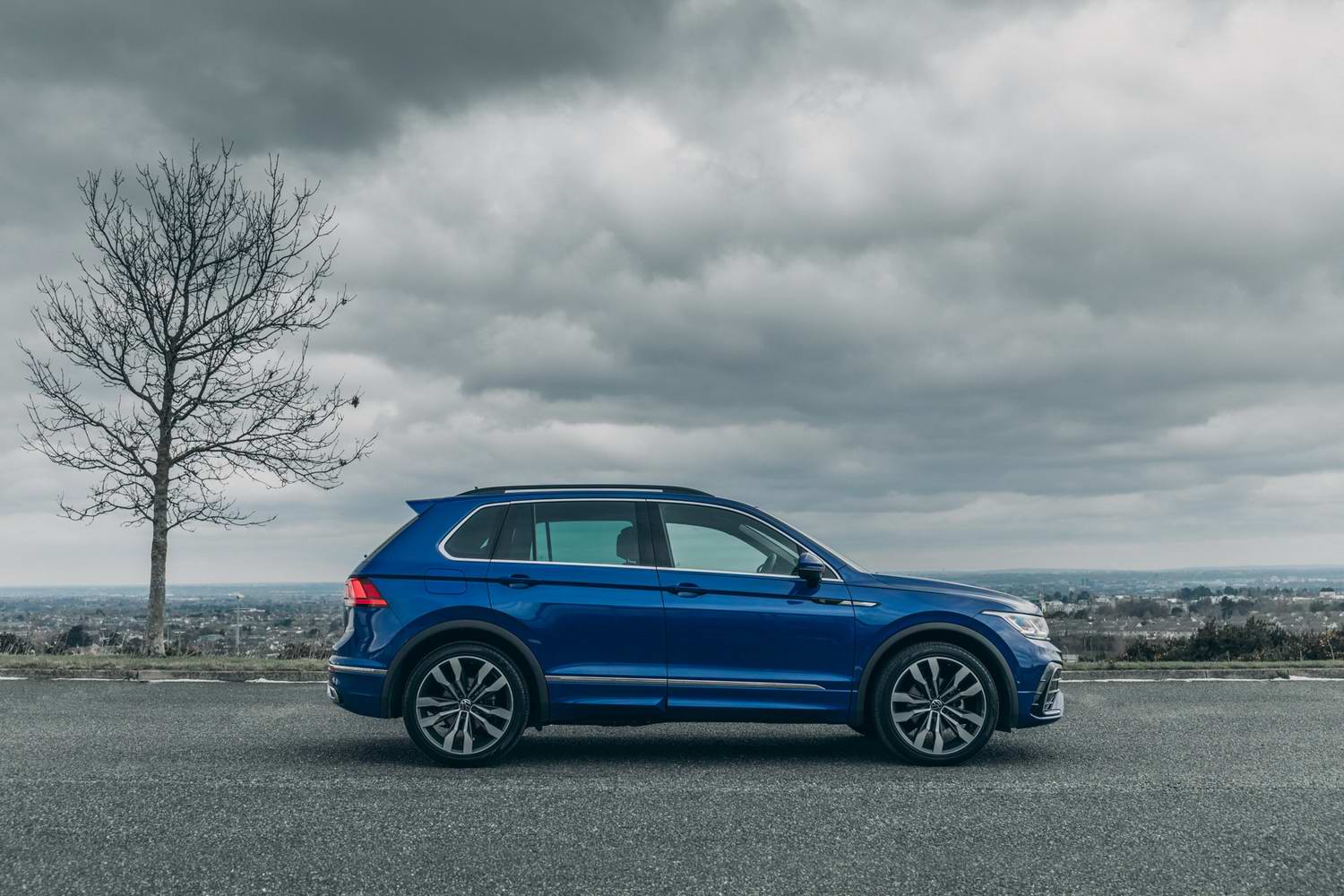 List price: €42,480
Monthly repayment: €479.80 (as per example)
Purchase type: PCP
Interest rate: 7.9 per cent
Volkswagen's Tiguan has been astonishingly popular in recent years, outselling even the mighty Golf hatchback. While it may have lost its crown as the best-selling VW model to the impressive all-electric ID.4, the recently-updated Tiguan still has a lot to recommend it. There isn't a hybrid or electric version available in Ireland, so you'll be sticking with a 2.0-litre TDI diesel engine and at this monthly payment price it's the basic 122hp engine you'll be getting. No matter - while it's no Grand Prix machine, it's refined, economical and knocks off long journeys like they never happened. Inside, the updated cabin gets an improved touchscreen and neat air conditioning controls, along with almost-luxury-car levels of build quality. It's a plain-looking interior, but it's hugely roomy and comfortable and the Tiguan has a pleasing precision to the way it drives. A little old-school with that diesel engine the Tiguan may be, but for those whose lives are spent in the outside lane, it's still a hugely good choice.
Read our review of the Volkswagen Tiguan
3. New DS 7 on PCP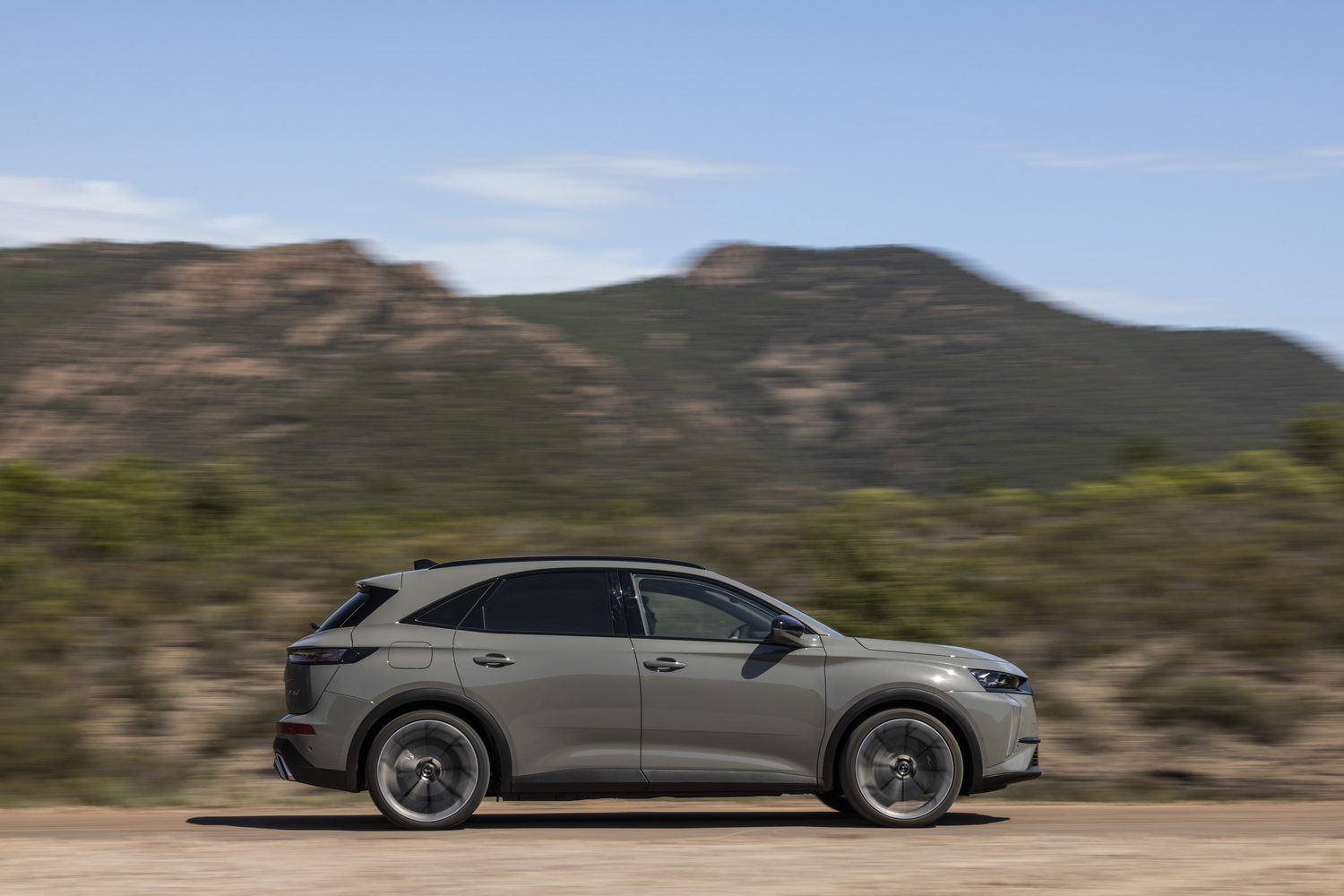 List price: €49,990
Monthly repayment: €452.80 (as per example)
Purchase type: PCP
Interest rate: 4.9 per cent
The DS 7 is something of an enigma of a car. It's not the same size as its opposition - its dimensions put it roughly between the BMW X1 and BMW X3 - and it doesn't have the badge you expect it to have. For many of us, a DS is still just a 'posh Citroen' but as a brand it's really just starting its journey as a separate marque, and the performance of models such as the 7 are crucial to how that story plays out. Thankfully for DS, this is a good story. It's a handsome car, hitting the same marks as its German competitors but with a few neat twists of its own. Inside, the story is similar - the quality, fit and finish and comfort are all very Audi or BMW-esque, but there are nice touches such as soft suede trim and a fold-out clock designed by avant-garde watchmaker BRM. Our notional €500 budget doesn't quite stretch to the plug-in hybrid version, but the 1.5-litre BlueHDi diesel is still a decent choice if you're a high-mileage driver, and it's superbly economical into the bargain. The DS 7 is not an obvious choice, but to be honest that just makes it all the more appealing.
4. New Mercedes-Benz CLA on PCP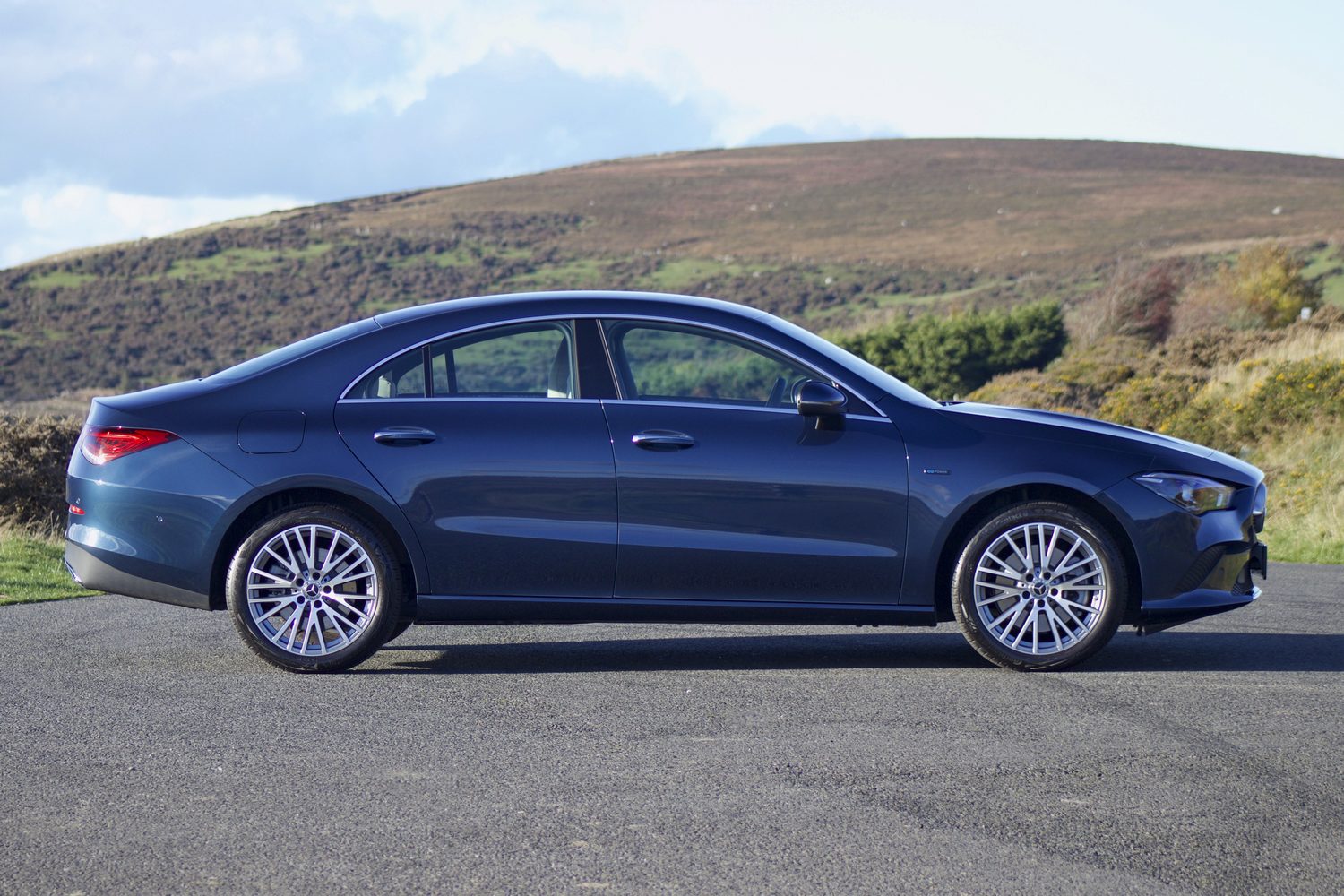 List price: €46,420
Monthly repayment: €514 (as per example)
Purchase type: PCP
Interest rate: 4.9 per cent
The CLA is something of a well-kept secret in the Mercedes-Benz range. It's easy to dismiss it as a more expensive version of the A-Class saloon (and in fairness the two cars do share a lot, mechanically and even stylistically), but the CLA manages to be slightly more than the sum of its parts - it's more engaging to drive than the A-Class, and is also a bit more refined on a long journey. Plus, it's that tiny bit sexier, thanks to a sleeker rear end (steady on...) and frameless door glass. It's also vastly more affordable than the C-Class, in spite of being not all that much smaller inside, and certainly no less handsome. This kind of monthly repayment only gets you a basic CLA 180, but that's OK - the 1.3-litre turbocharged petrol engine is hugely economical to drive, and the CLA's compact shape doesn't give it too much work to do.
Read our review of the Mercedes-Benz CLA
5. New Dacia Duster on HP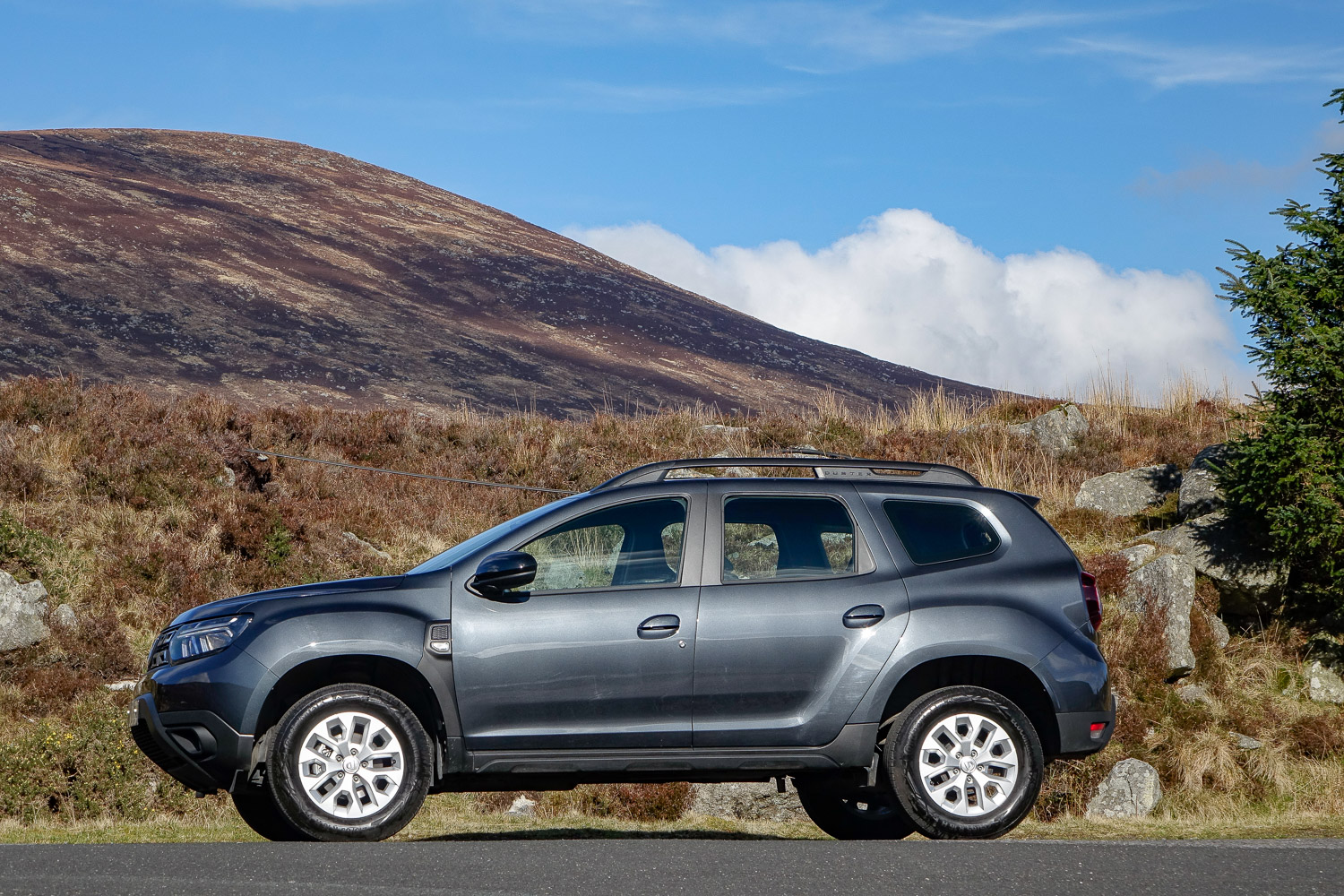 List price: €22,340
Monthly repayment: €504 (as per example)
Purchase type: HP
Interest rate: 6.01 per cent
You have to be trying to spend €500 a month on a Dacia Duster. In fairness, there are PCP plans that can give you monthly repayments on a Duster of around half as much, but those involve hefty deposits and a large final payment, plus you're restricted by minimum vehicle condition and maximum mileage. By going for a more old-fashioned Hire Purchase (HP) agreement, you skip all of that and there's no big final payment. Just complete the agreement and the Duster is yours. To get the €504 per month repayment, you'll need to put down a deposit of €5,600 (or thereabouts) but you'll only be making repayments for three years. The Duster remains a star of Dacia's line-up - it's simple, reliable, roomy and practical. It's even pretty decent to drive.
Read our review of the Dacia Duster
6. New Skoda Superb on HP
List price: €39,520
Monthly repayment: €489 (as per example)
Purchase type: HP
Interest rate: 1.9 per cent
This may be the most sensible car on this list. The Superb might be looking a little old-fashioned, what with being a four-door family saloon (actually a five-door liftback, but let's not quibble) amid a sea of trendier 4x4s and SUVs, but the fact is that nothing is more practical. How does a 625-litre boot grab you? If you're a family buyer, nothing else offers as much carrying space for the cash (at least, nothing else that's not a converted van-with-windows). Up front, you get a high-quality cabin while those in the back get stretch-out legroom. The Superb in this specific deal is a base model with the 1.5-litre TSI turbocharged petrol engine, but don't let basicness fool you. This is a hugely refined engine, and hugely economical too so you won't miss the bigger diesel option. Plus, nothing else on this list comes with an interest rate as low as this, and as with the Duster option above, it's a traditional Hire Purchase deal, so there's no messing around with an optional final payment. See? Sensible...
7. New Lexus ES on PCP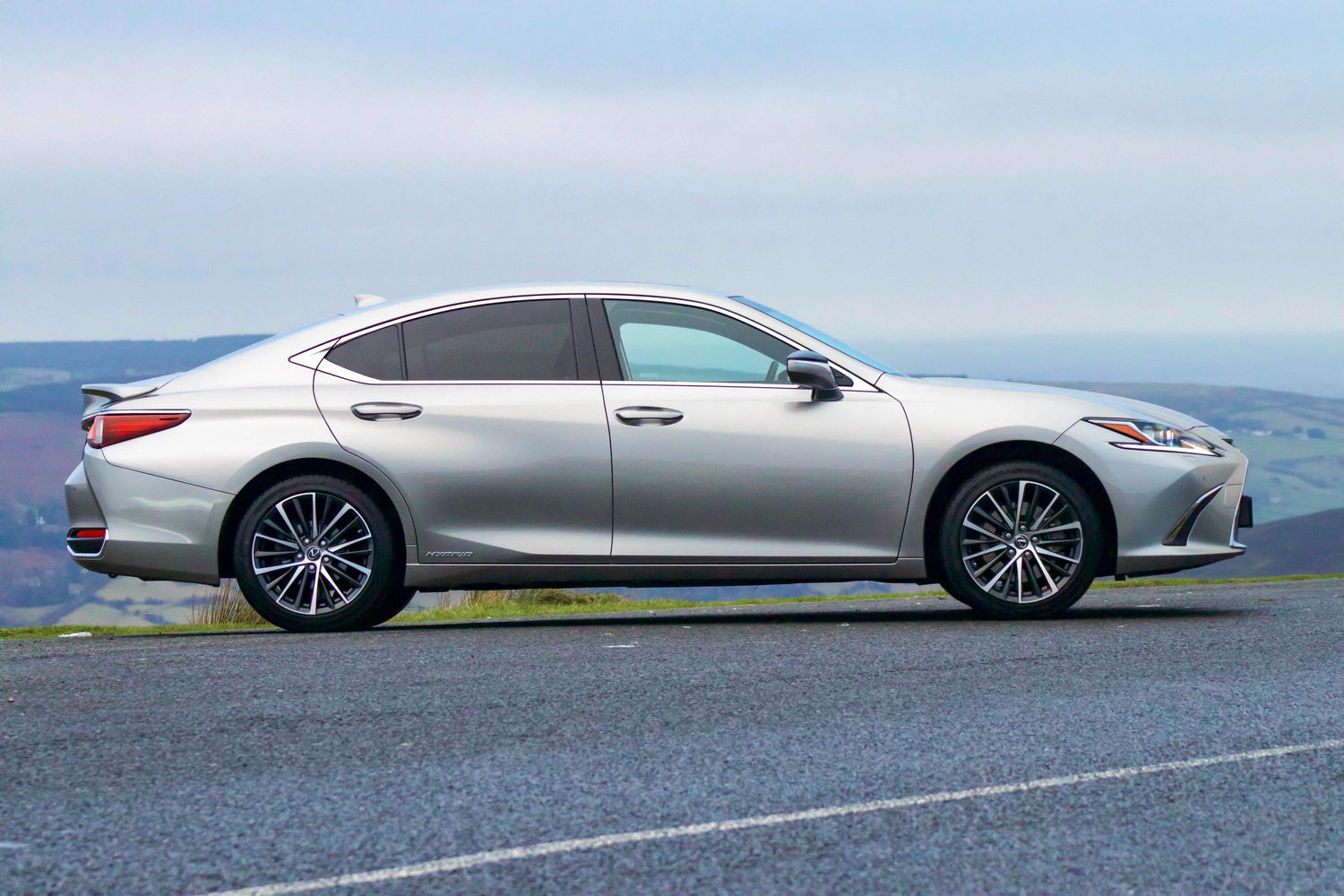 List price: €59,680
Monthly repayment: €527 (as per example)
Purchase type: PCP
Interest rate: POA
OK, so we've busted the budget ever so slightly with this one, but hey - just take a packed lunch to work once or twice a week and you'll easily get that €27 back, right? It'll be worth all the bread-slicing and cheese-grating to get your hands on a Lexus ES 300h because it's one of the smoothest and most refined cars on the road. One of the most reliable as well, not to mention hugely luxurious. It's a low-slung four-door saloon (refreshing in this SUV-addled world...) and Lexus has recently updated the cabin a little to give it a better infotainment system and some snazzy new instruments. The 2.5-litre hybrid engine is quiet and economical, and you'll never tire of the way the ES lopes along motorways and main roads. It's a proper luxury express, this.
Read our review of the Lexus ES
8. Used Renault Zoe (2018) using personal loan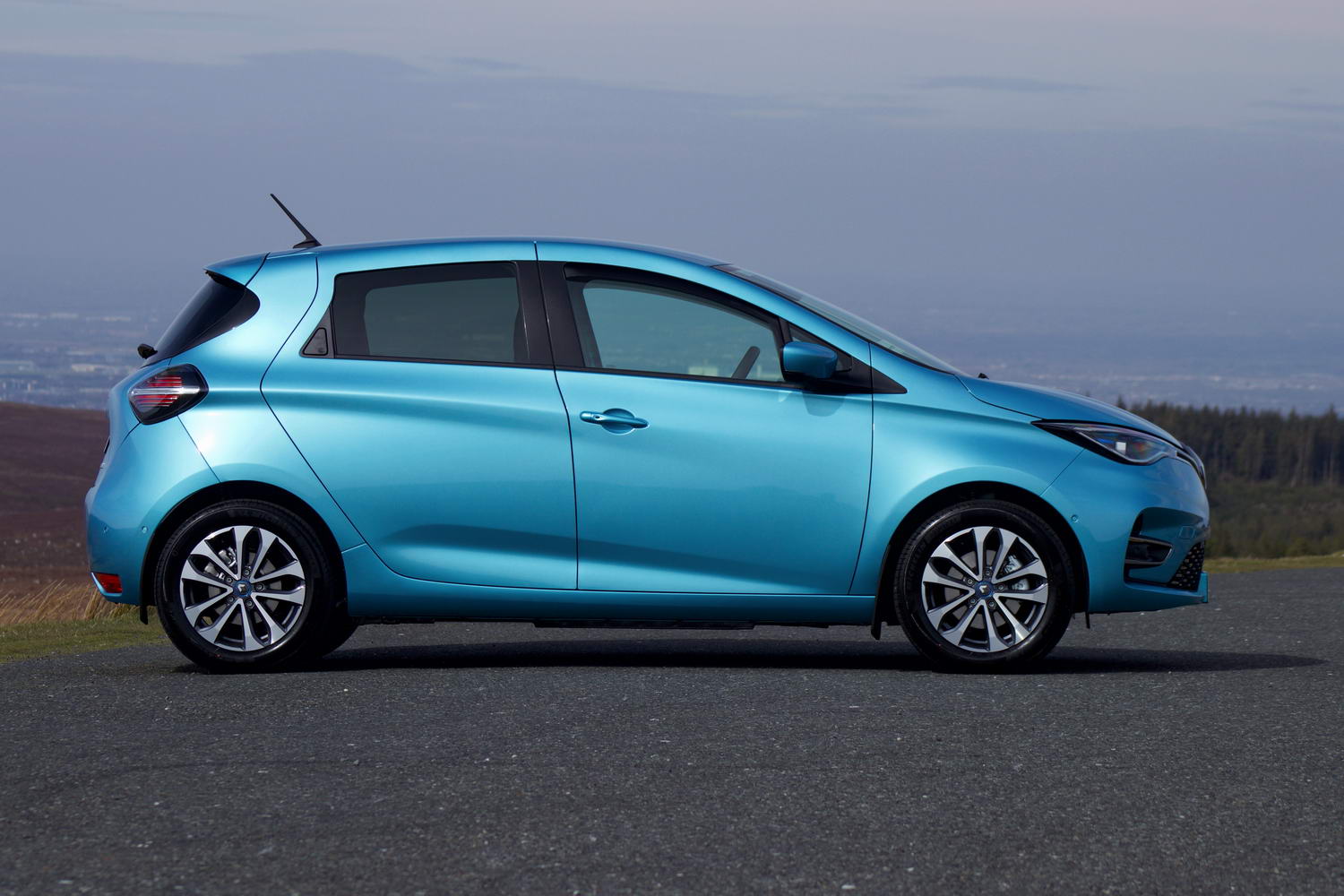 List price: €15,950
Monthly repayment: €505 (as per example)
Purchase type: personal loan
Interest rate: 8.95 per cent
If you want to have monthly repayments of around €500, then you'll be able to borrow something in the region of €16,000 (we've used an AIB car loan calculator for our example, but you may be able to find better rates from other providers). That does mean paying a hefty interest rate, but the upside is flexibility - no need for a deposit, no need to worry about 'balloon' payments or the fine print of PCP deals. Just rock up, choose your car and slap your cash on the table. With that in mind, it makes a certain amount of sense to future-proof yourself by going electric, and the Renault Zoe is one of the most affordable and practical electric cars around. We found a 2018 model, available from a Renault main dealer with a full warranty, for just under €16,000 and it should still be able to provide pretty close to its official 395km electric range on one charge. As long as you take good care of the battery, this should provide solid electric motoring for some time to come.
Read our review of the Renault Zoe
9. Used Citroen Grand C4 Picasso (2015) using personal loan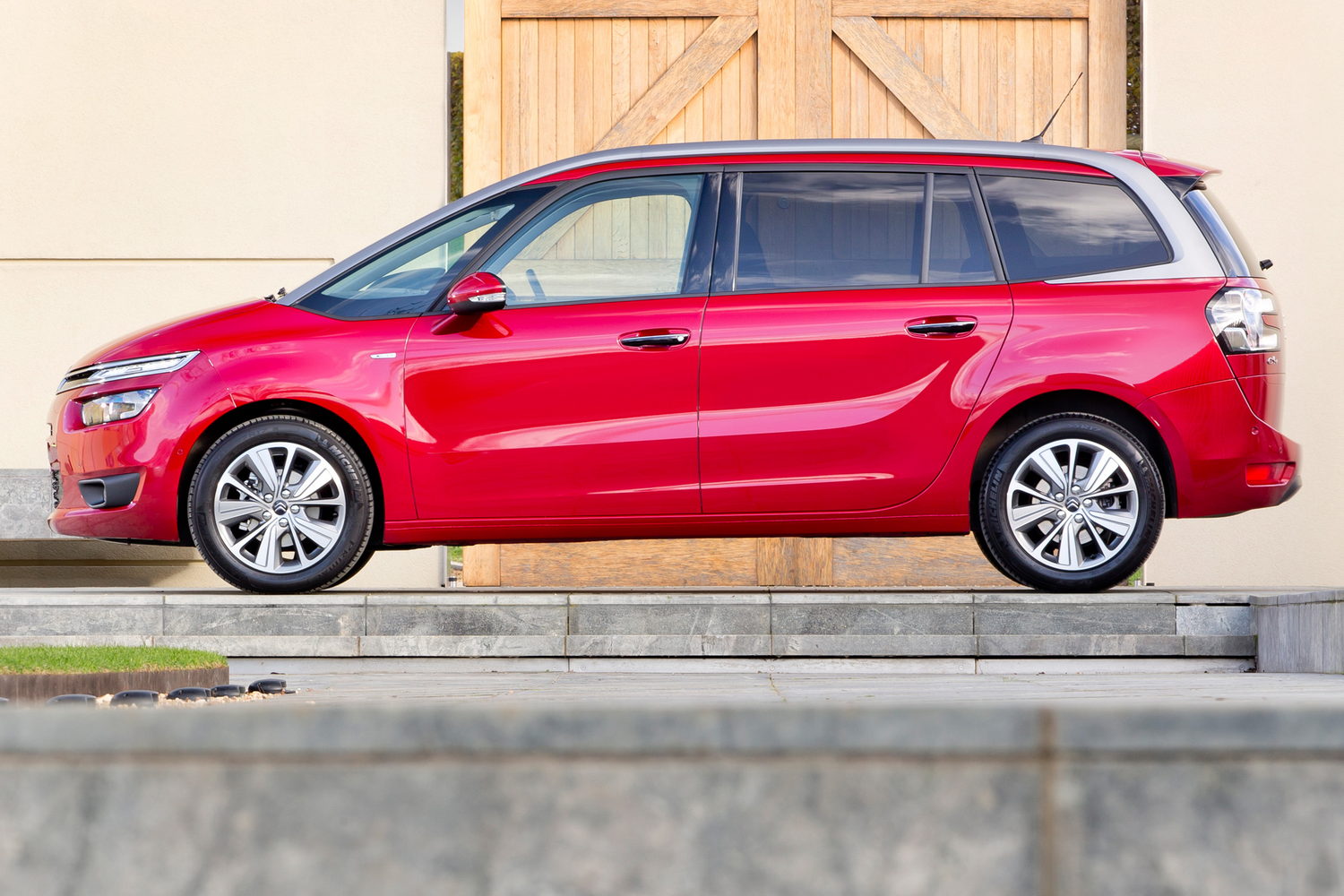 List price: €16,950
Monthly repayment: €460 (as per example)
Purchase type: personal loan
Interest rate: 8.95 per cent
As with the Renault Zoe example above, this is a personal car loan, notionally taken out with AIB. In this case, in the search for more space and practicality, the Citroen C4 Picasso we've picked is a little more expensive, at close to €17,000, but by stretching the loan period from the 36 months we went with for the Zoe to 48 months, we've brought the repayments down to well under the €500 mark. That gets you a hugely roomy and useful car, with seven seats and a stylish cabin. The C4 Picasso is also pretty solidly built, and largely reliable, although you'll need to make sure that the 1.6-litre diesel engine comes with a full service history and that you yourself maintain it fastidiously or problems with the exhaust gas recirculation valve will rear their ugly heads.
Read our review of the Citroen Grand C4 Picasso
10. New MG 4 on lease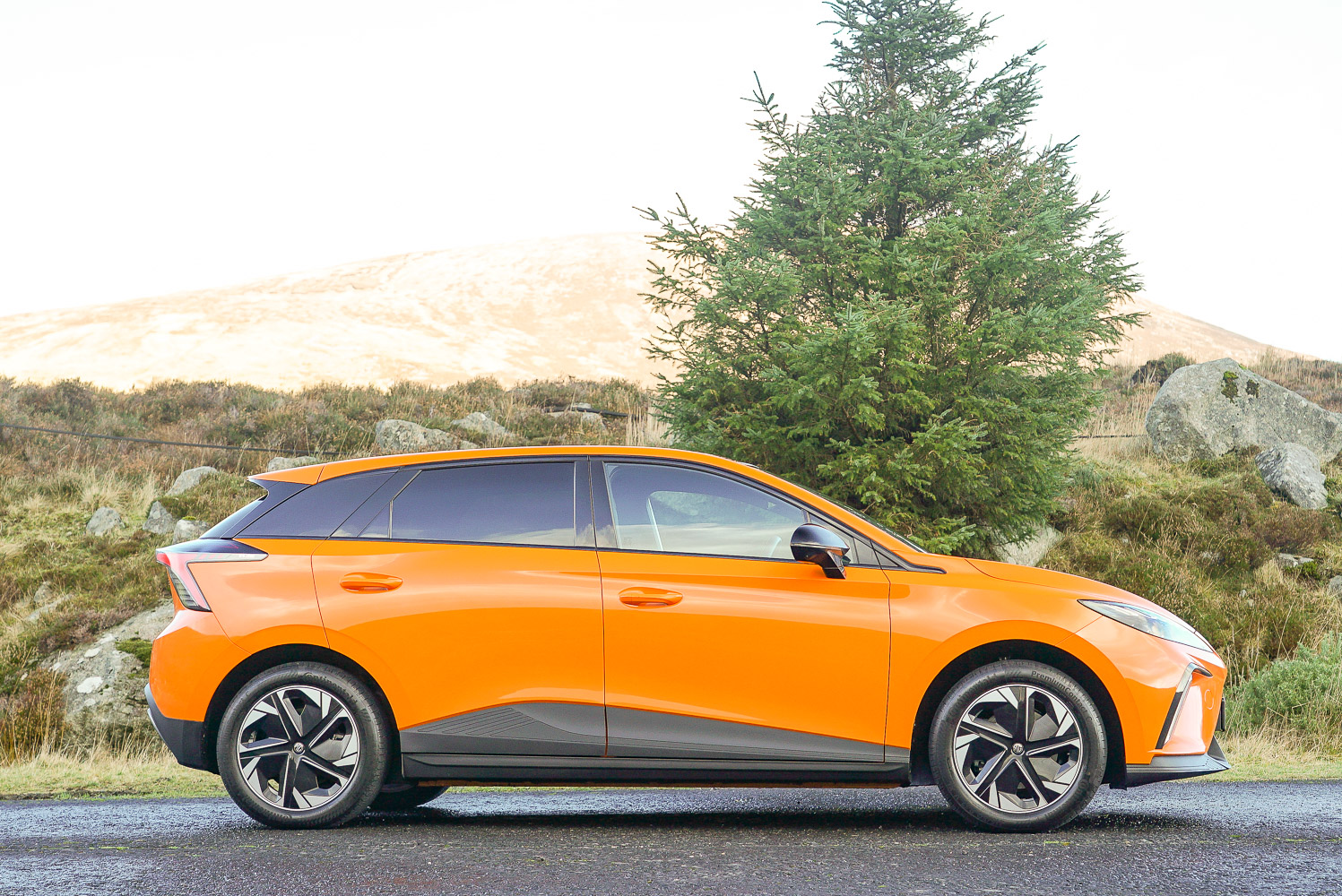 List price: €34,495
Monthly repayment: €487 (as per example)
Purchase type: personal lease
Interest rate: not applicable
Personal leasing is a relatively new way to buy a car for yourself, and is almost like turning yourself into a small company and giving you a company car. Sort of. It is a simpler agreement than a PCP, but at the end of the lease you won't actually own anything. We've used Leaseplan as an example, but there are other providers. For €487 per month, with a €3,841 deposit, you can get one of the best new cars around, the long-range MG 4 - a sharp-looking and sharp-driving electric car, with a range of around 450km and a roomy cabin. At this price level, this is a fairly basic lease, but you can optionally include all maintenance costs for €530 per month, or save yourself a few Euro and drop down to the basic standard range MG 4 (300km range) for €443 per month with a €3,468 deposit.