It feels as if the Fiat 500 has been around forever. Which is actually fair enough, because not only has the current petrol-engined model been on sale since 2007, but it in turn is a stylistic update of the 'Nuova 500' of 1957, so in many ways it feels as if the littlest Fiat has been with us ever since.
Of course, the original 1957 500 wasn't created in a vacuum. It was a replacement for the 500C, a car based on the pre-war Fiat Topolino. Though the 'Nuova 500' carried over that car's rear-engined layout, that was pretty much all it copied. While the Topolino had been a tiny two-seater, the 500 of 1957 was a proper four-seater, and had more cabin space than any other small car of the day. The original Mini came along two years later.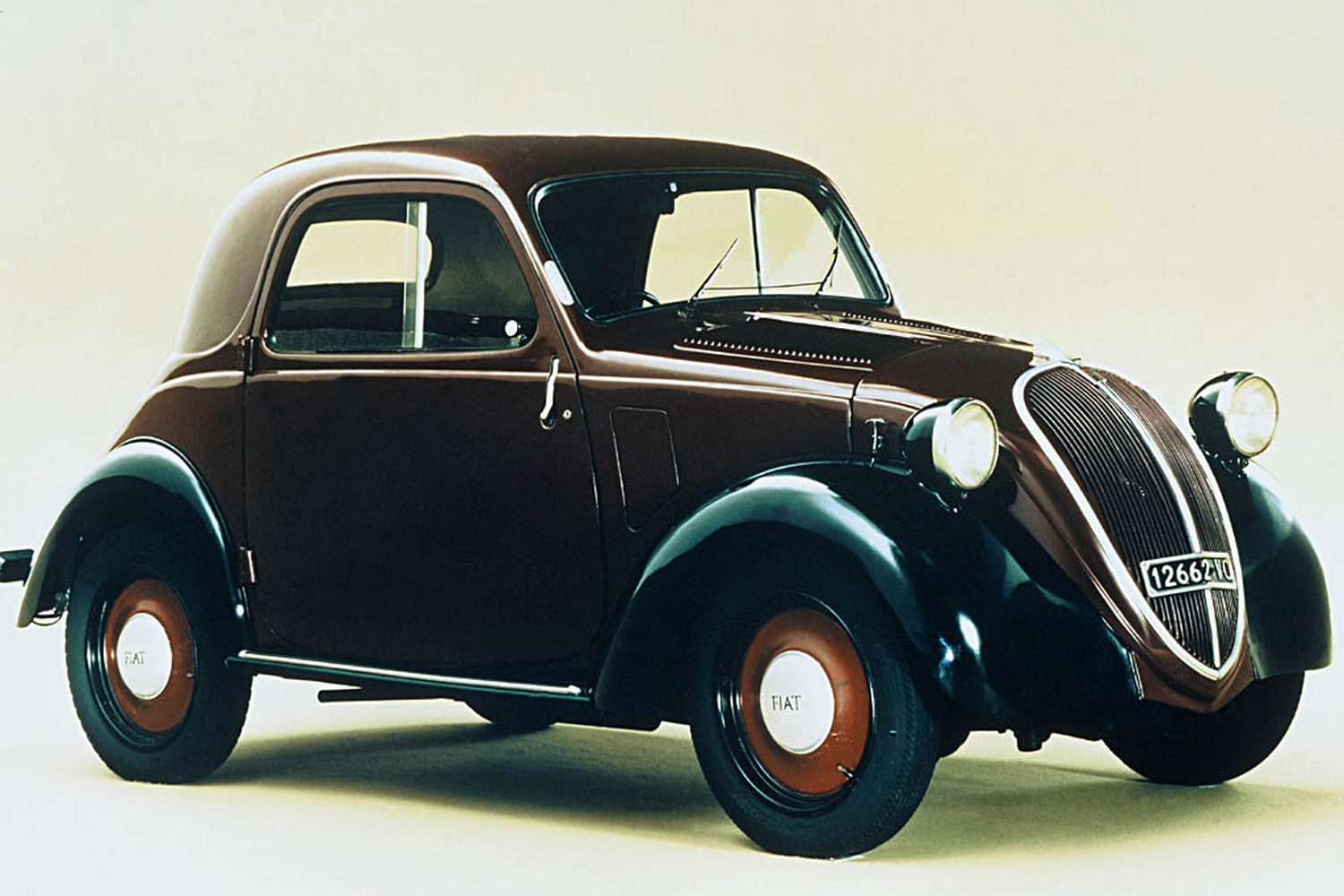 Indeed, the Mini and the 500's rivalry would come to define the extended lives of both cars. The 500's creator, Dante Giacosa, even said he was jealous of what the British Motor Corporation was able to achieve. "The appearance of Alec Issigonis's Morris Mini in 1959 had been a discouraging blow for us all. I knew that the Morris company had been testing the vehicle for some time, but I never imagined it was so small and so amazingly successful in design. I was shaken and felt regretful that I had not persisted with my studies for a front-driven transverse-engined auto after the design for the little '100' in 1947," wrote Giacosa in his autobiography.
Mind you, Giacosa didn't have much to be jealous of. A hugely skilled designer and engineer, he would create generation after generation of small cars for Fiat, including the 500's bigger brother, the 600, and the glorious Multipla 600 spinoff, which lays a claim to being the original MPV. He would also go on to design the little Fiat 126, the 500's replacement, and the famed 128 - a roomy hatchback model that effectively laid the template for the Volkswagen Golf to follow.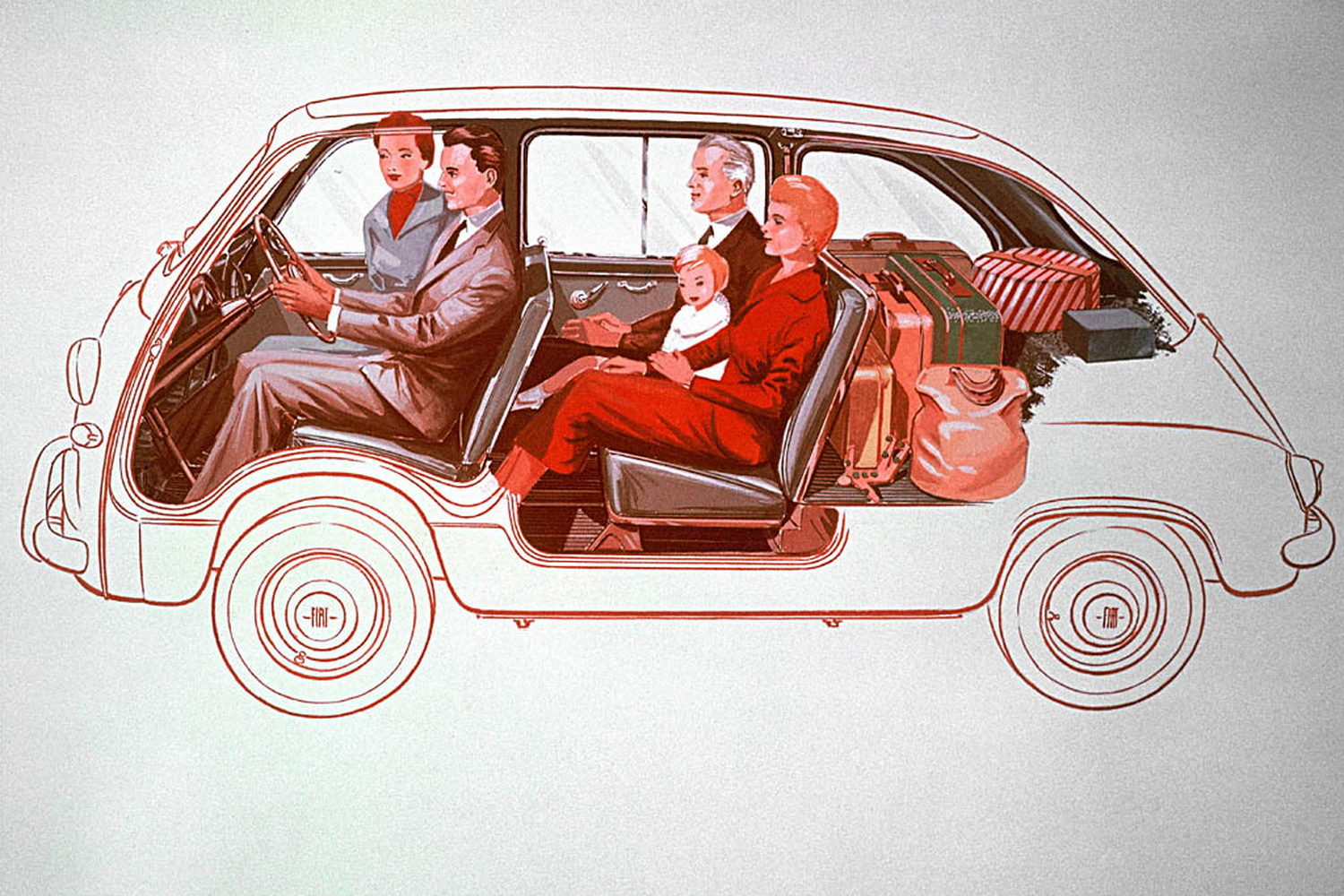 That talent clearly came through in the original 500. It had a tiny 479cc, two-cylinder, horizontally-opposed engine mounted in the rear, developing a titchy 13hp. Still, that was enough to get post-war Italy back onto four wheels, and the 500 quickly developed a reputation as being roomy enough for family life, but fun to drive when you were on your own. It probably helped that a full-length canvas sunroof was standard - who wouldn't want to own an affordable convertible?
Changes for the 500 came thick and fast. In 1959, a Sport version was introduced, which came with a solid roof and a bright red stripe down the side. The engine had had been bored out to 499cc and now it produced a healthier 21hp. Top speed was claimed to be just over 100km/h.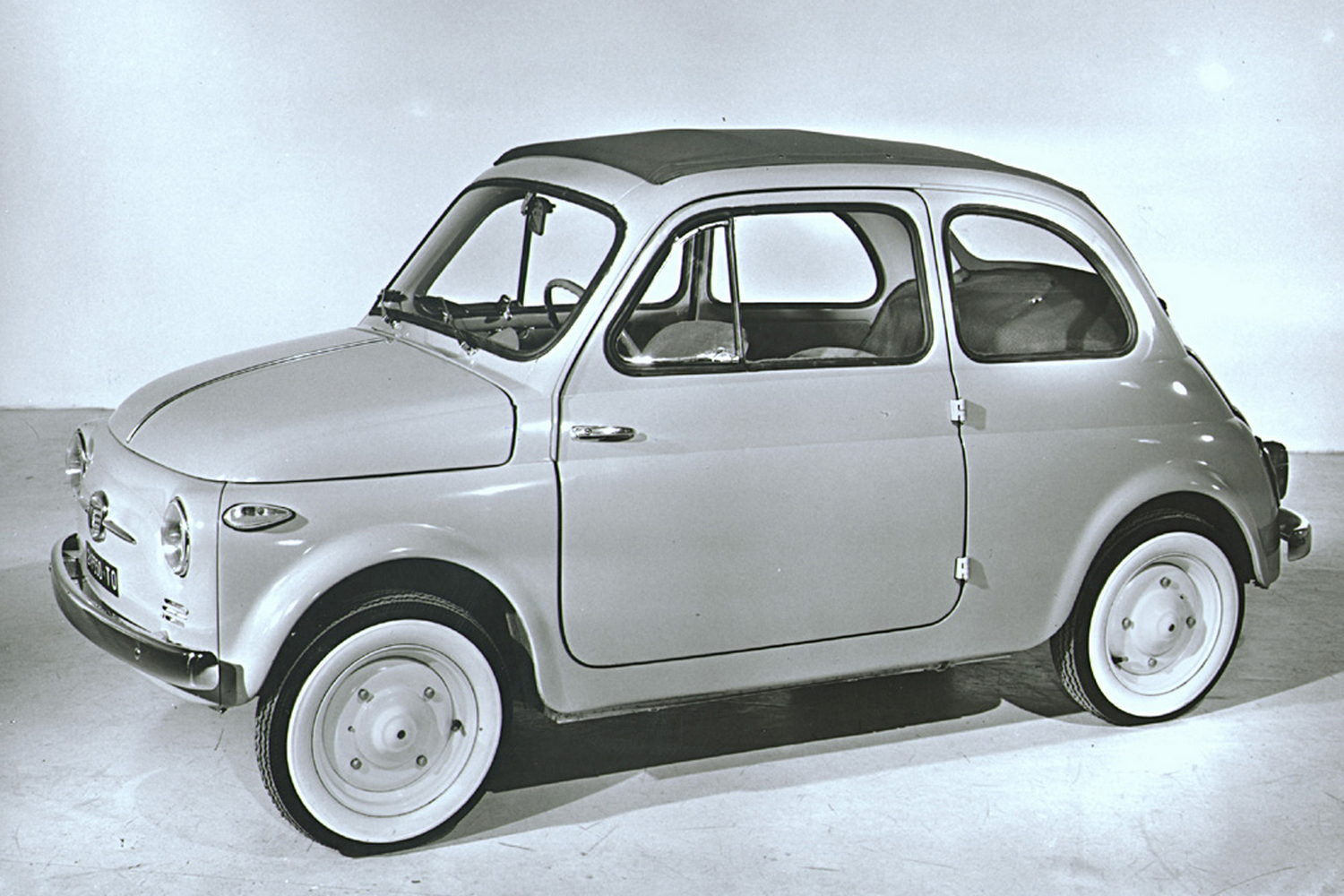 The 500 then evolved rapidly, with a 'D' model coming in 1960, featuring a 499cc engine with 17hp, and a smaller canvas roof as standard. The range expanded that same year with the practical 'Giardiniera' estate model, which of course itself morphed into a van version.
In 1965 came the 500 'F' version, which featured front-hinged doors for the first time, while the 'L' of 1967 got a major makeover - new interior, new badges, carpet instead of rubber mats and so on. Finally, in 1971, the R - for 'Rinnovata' or renovated - came along, featuring a bigger 594cc engine (no more power than before, though) and, while it was supposedly more luxurious, it still did without some supposedly major details, such as a fuel gauge (you just got a low-fuel warning light).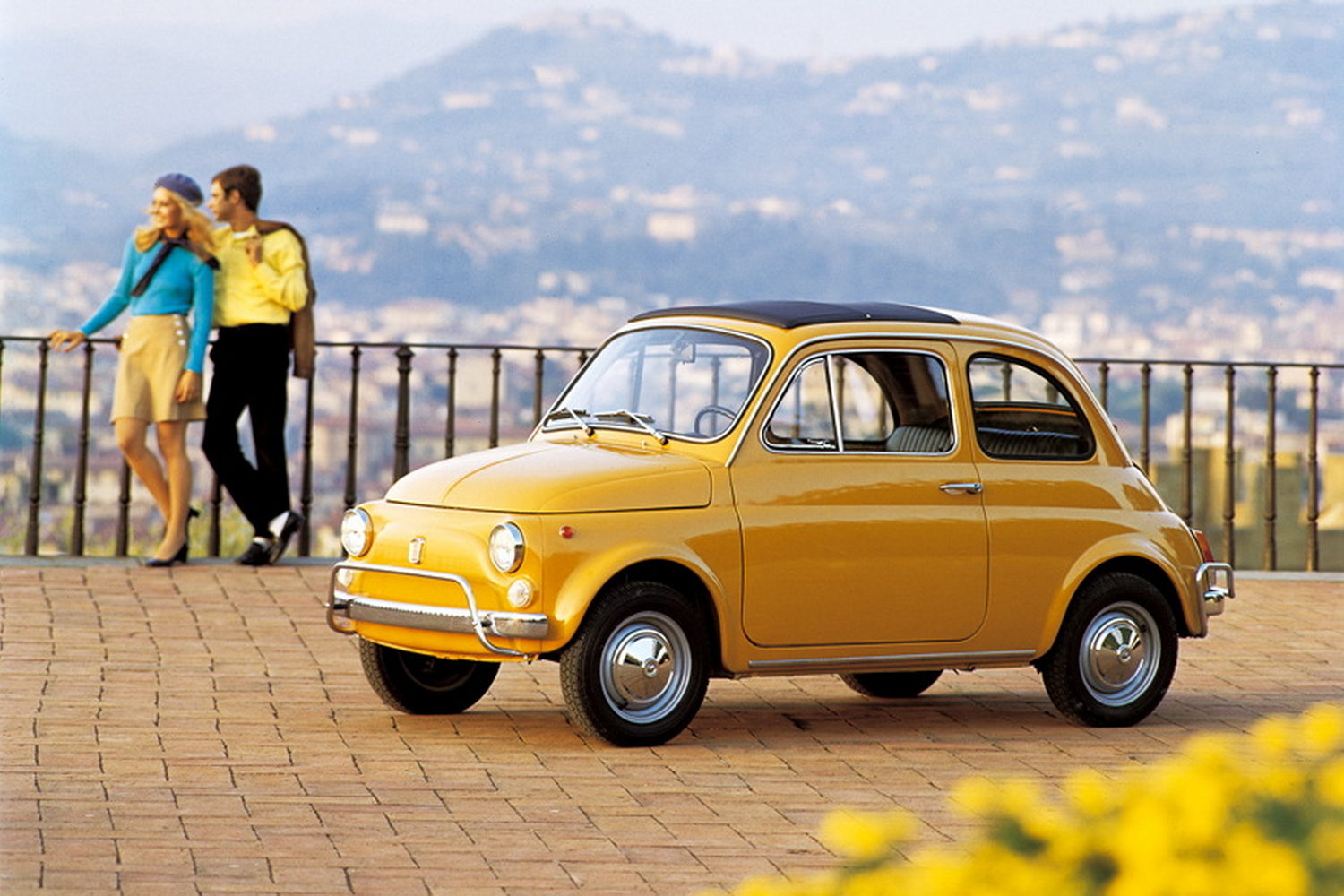 By then, the 500's design was starting to look pretty old, and from 1972, it was sold alongside the new 126. While the 126 carried over much of the 500's mechanical package, its square-edged body was seen as being far more modern, and so the 500's sales dwindled until, by 1976, it was no more.
That meant the end of such glorious 500 spinoffs as the 'Jolly' - an entirely open car, with no doors, no roof and wicker seats, designed for use as a 'beach car', and the various tuned and tweaked versions produced and raced by the great Carlo Abarth. That original Abarth 695SS produced a whopping 38hp...
That should have been the end of it, but let's fast-forward a couple of decades, to the early 2000s. Stung by the poor sales performance of cars such as the Stilo and the second-generation Bravo, Fiat is struggling for sales and looking increasingly likely to be gobbled up by an acquisitive rival. There is one last roll of the dice to be had, though and once again the rival Mini is about to play a major part.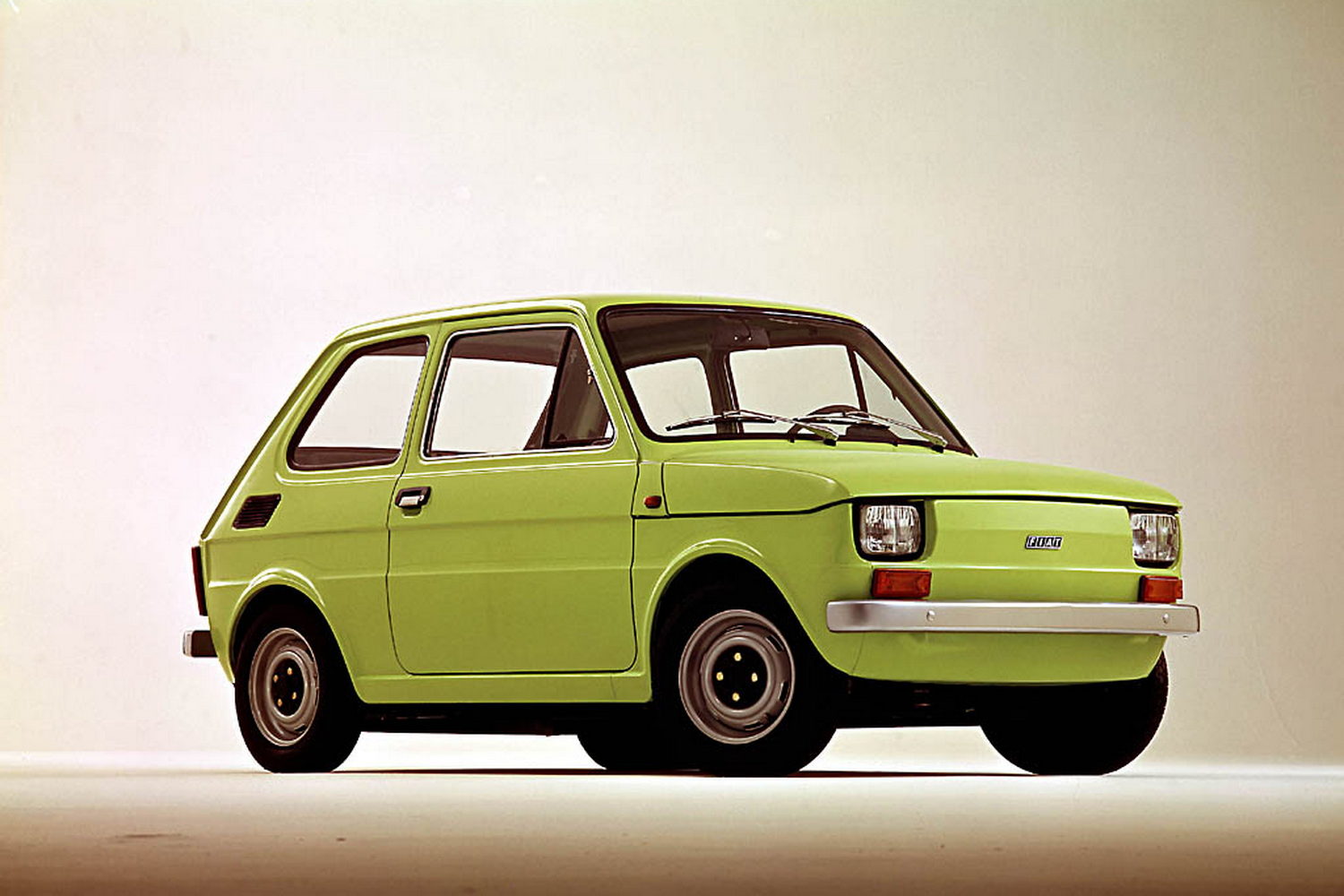 Fiat's combative CEO, Sergio Marchionne has looked on enviously at the success enjoyed by BMW with its revival of the MINI brand. Since 2000, MINI sales have been strong, and the car has often been sold at a massive profit, as buyers are adding on lots of optional extras. Marchionne wants a slice of that pie, and so begins a deep dive into Fiat's corporate history, in search of a modern-day hit.
The first hint of what's coming is the Trepiùno concept car of 2004. The name is a contraction of the Italian 'tre più uno', which means three plus one - it's a reference to the car's seating layout. Within the compact cabin, there's space for two adults up front, plus one in the back seat (assuming the front seat passenger squeezes up a bit), and a small spare seat behind the driver. In an age when the MINI is selling like hot cakes, when Toyota is prepping its innovative iQ small car and especially when the streets of Italy's cities are becoming flooded with so many Smart ForTwo microcars, it's high time for a 500 revival.
So, the Trepiùno is adapted. The original design was by Roberto Giolito, who also designed the frankly amazing 1999 Multipla MPV, but to put the car into production, Marchionne brings in the person who helped to create the car's biggest rival - Frank Stephenson, the man who helped to design the 2000 MINI, is now working for Fiat.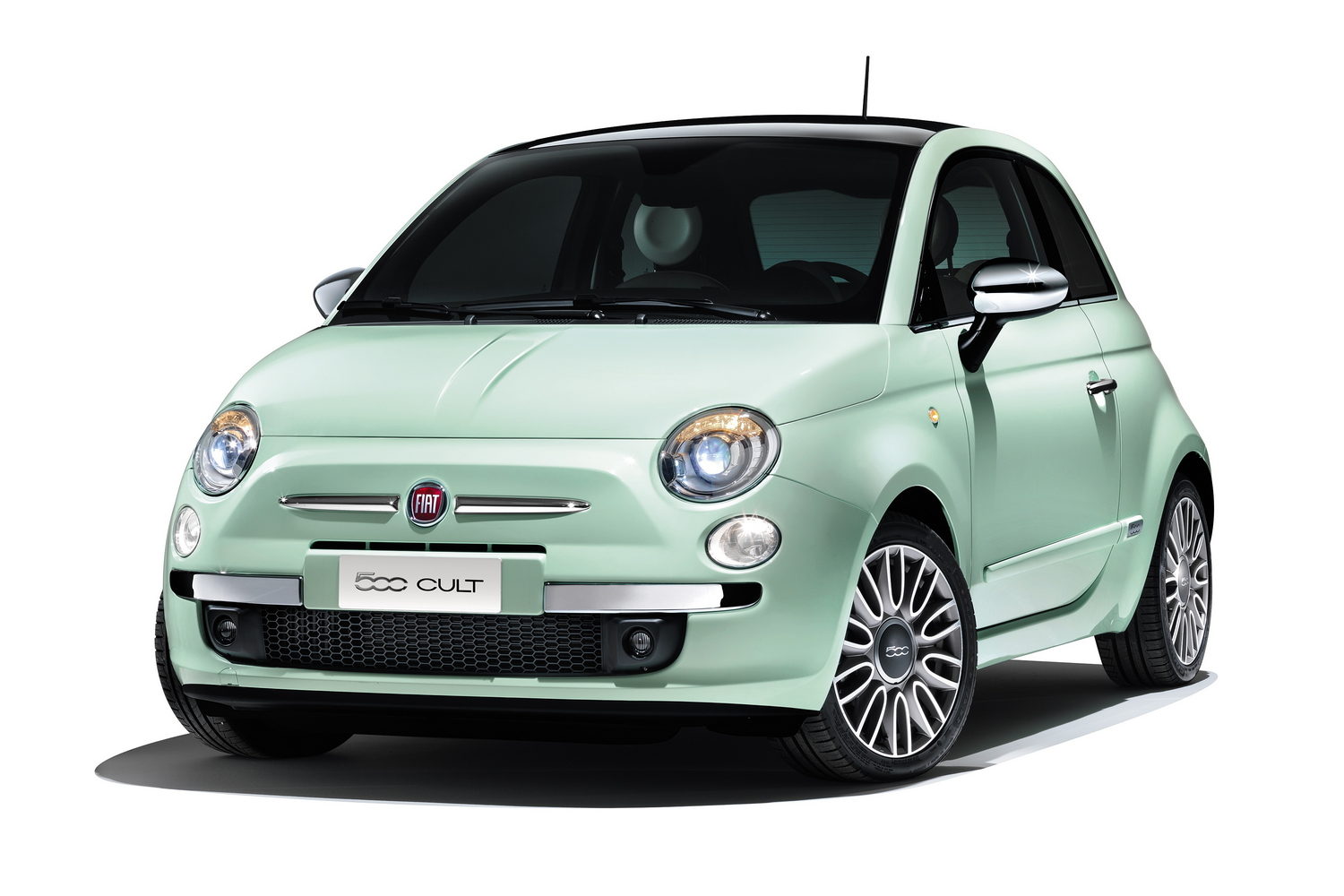 Stephenson will gently rework the Trepiùno so that it can be made on the same chassis as the then-current Fiat Panda, and the reborn 500 will be built alongside the Panda in Fiat's factory in Tychy, Poland (where the old 500's successor, the 126, had also been made).
The 500 was, once again, an instant success. In that first year of 2007, 42,000 were sold, which would in and of itself have been a pretty solid figure. However, in 2008, sales more than tripled to 177,000, a figure that the 500 stuck pretty firmly to for the next two years - a fact that was even more impressive given that the world was sliding into recession at the time. Even in 2011, when most car markets were on their knees, 155,000 500s were sold in Europe. By then, the 500 was even on sale in the US, as small car sales flared briefly in the face of spiralling fuel prices.
Here's the thing, though. Even now - more than a decade on from its launch - the 500 is selling strongly. In 2017, an all-time record of 189,000 found homes in Europe. That held up in 2018, and in 2019, 175,000 European buyers plumped for a 500. Even in 2020, at a time when nobody was buying cars and everyone was mostly stuck at home, 140,000 500 sales were recorded.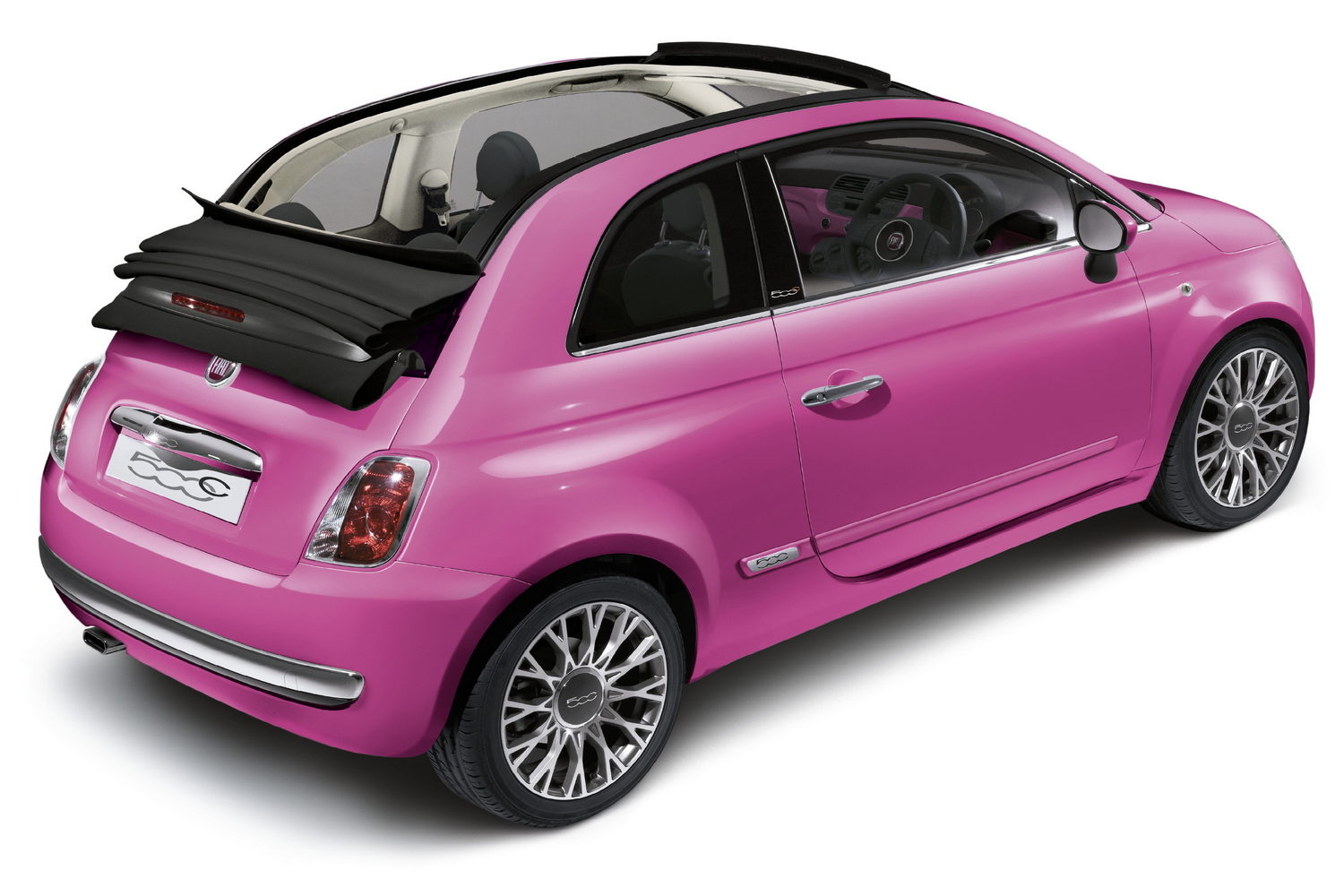 From that initial success in 2007, the 500 quickly spawned many spinoffs. The first models came with a humble 69hp 1.2-litre petrol engine (the 'FIRE' unit that dates back to the early eighties). Staggeringly, that engine is still available in the 500, and still provides solid economy and emissions figures.
Alongside the 1.2 was a 100hp 1.4-litre engine, and eventually a 900cc turbocharged two-cylinder unit, dubbed TwinAir, which picked up a hatful of Engine of the Year awards. For maximal 500 economy, you really needed to go for the 75hp 1.3-litre MultiJet diesel, which could not only beat 60mpg, but which had the kind of mid-range torque that allowed you to hassle BMW and Audi drivers on the motorway.
By 2009, the 500 had a second model line - the 500C, with the C standing for Convertible. That was a slight misnomer, as the 500C doesn't have a proper convertible roof. Rather, it has a full-length canvas sunroof, rather like the 1957 original, which gives you just about enough wind-in-the-hair motoring. For many years, the 500C was the most affordable convertible on the market.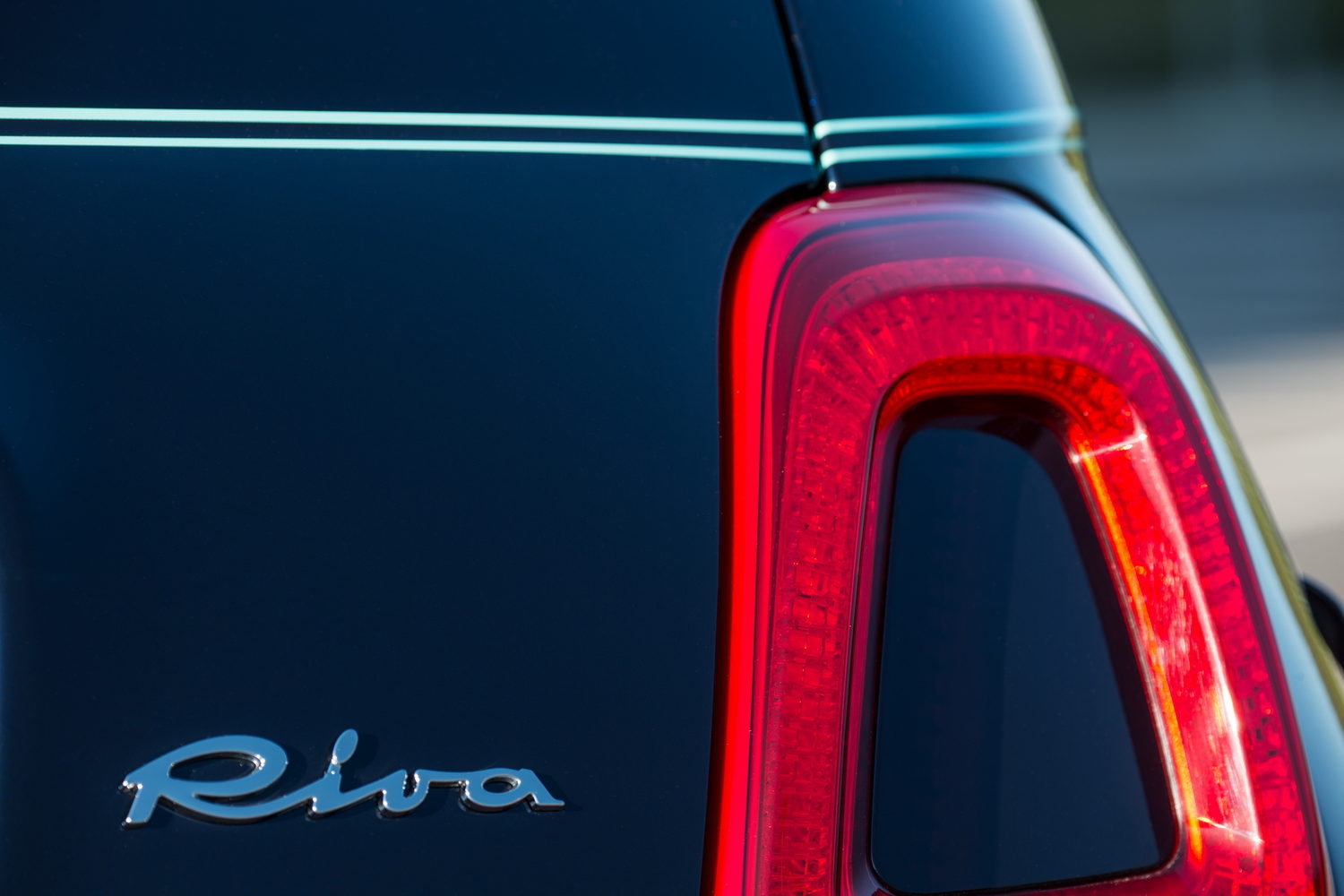 Special editions quickly followed. Those included a collaboration with Diesel Jeans (which confusingly could be bought with a petrol engine...), a tie-up with Barbie (painted pink, inevitably), F1-themed Ferrari and Felipe Massa editions, the 500 'By Gucci', the 'Vintage' that came with chrome hubcaps and pastel paint finishes and our favourite, the 500 Riva. This was a collaboration with Riva Powerboats, and came with unique dark blue paint, aquamarine stripes, ivory leather seats and a mahogany dashboard.
More recently, and more sensibly, the 500 has gained electrified versions. The standard 500, the one that's been in production since 2007, can now be had with a mild-hybrid 1.0-litre three-cylinder engine, emitting as low as 88g/km. More importantly, there is now a fully-electric 500e on sale.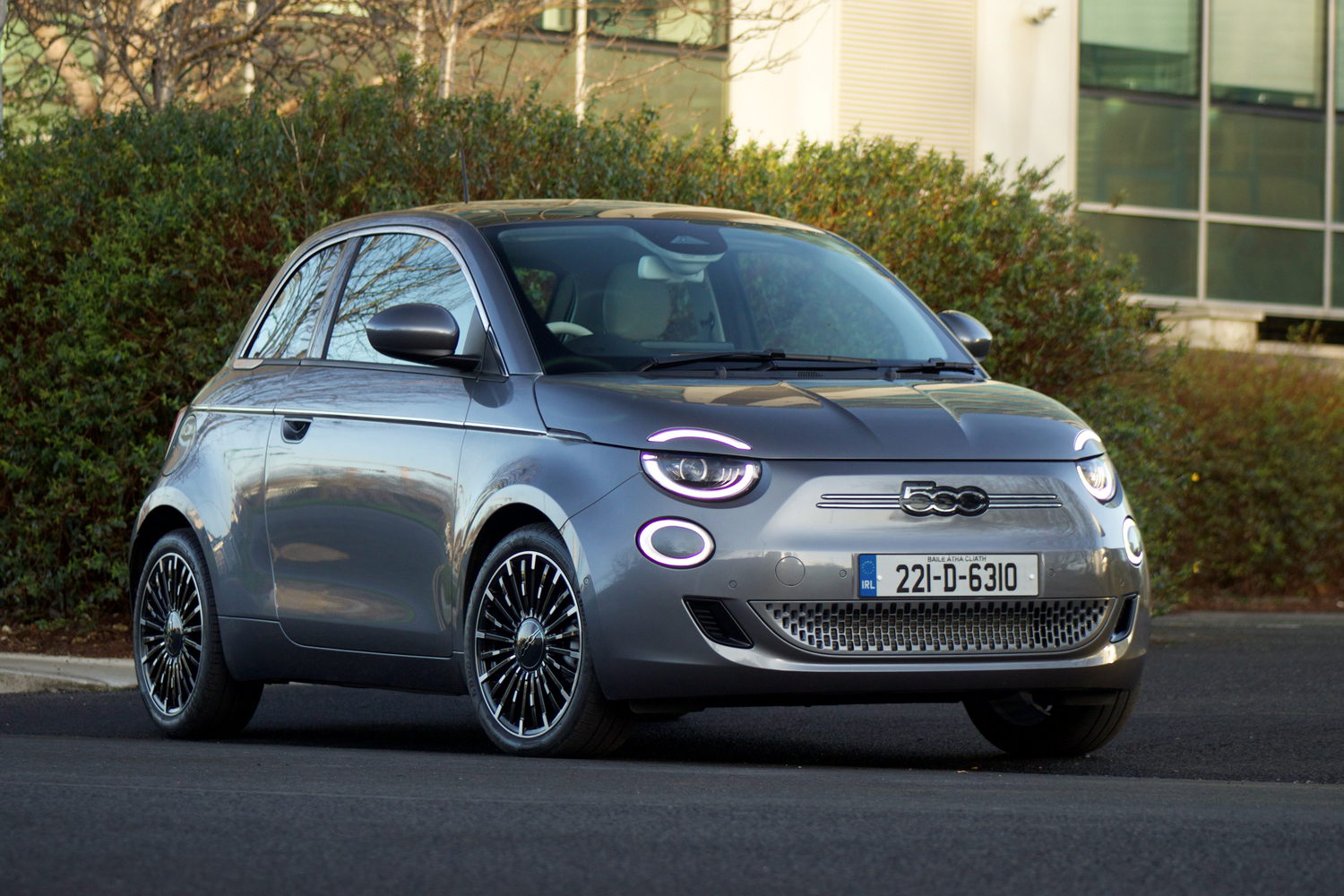 This isn't a development of the 2007 car, but is instead a completely new 500, built on a bespoke, all-electric chassis. It can be had with either a 24kWh battery, or a 42kWh unit, giving it a range of between 185km and 320km. It's a fractionally larger car than a petrol-powered 500, with a cabin that looks familiar, but which has higher quality levels than the older model.
The new 500e is verging on being a premium product, and it has a superior range on one charge of its (42kWh) battery than rivals from MINI and Honda.
The petrol-powered 500 is still soldiering on, and still represents exceptional value for money. The current hybrid model can be bought for €16,995, for example. Given that it looks as cool as ever, and is as much fun to drive as ever, that's a total bargain.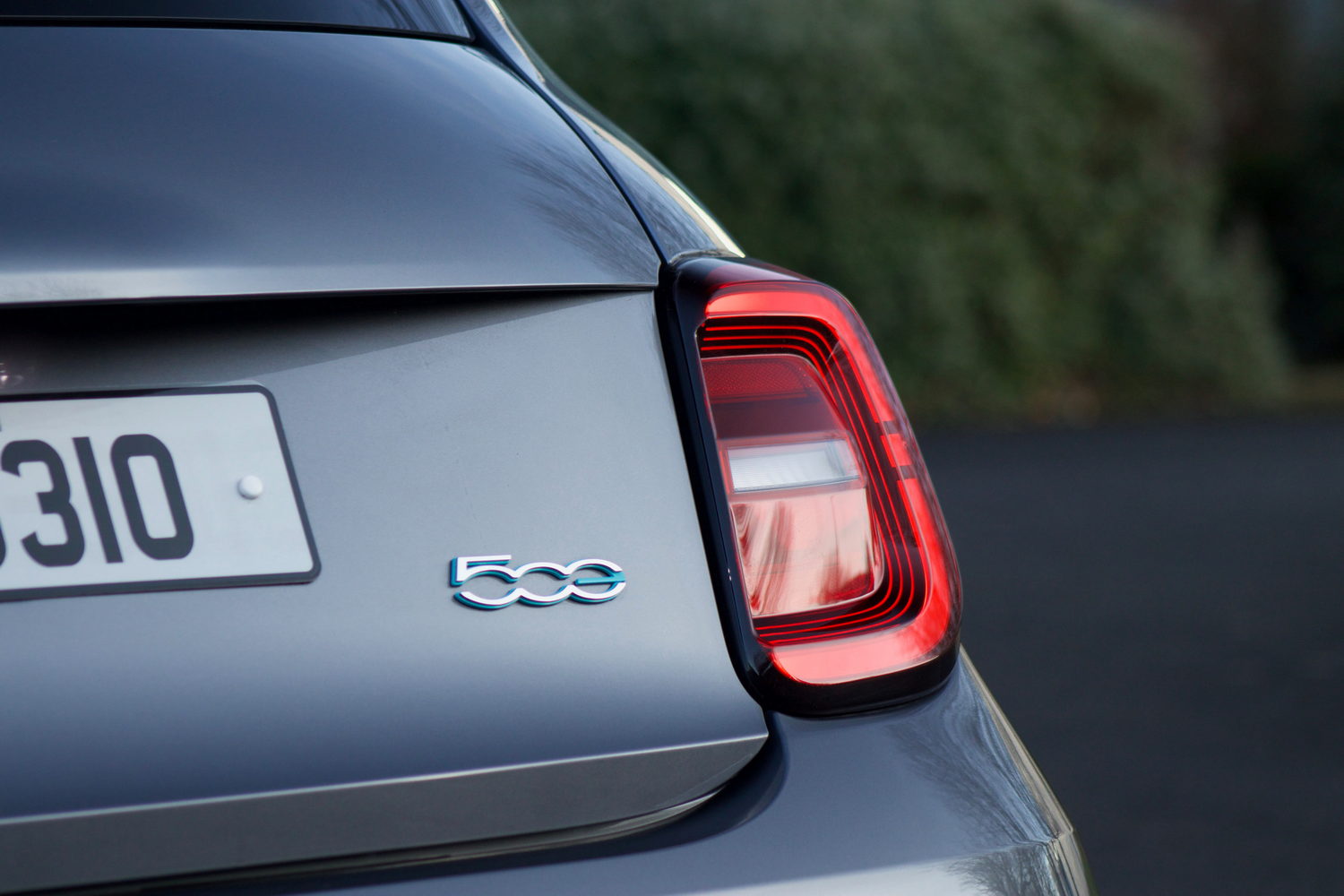 Then again, Dante Giacosa always felt that a small, affordable car was the best kind of car. "Large automobiles, intended for the privileged few have never much appealed to me. I had never shaken off my taste for the small and the economical, the sort of auto that can have the widest possible ownership, a taste instilled in me in my first years of work with Fiat," he wrote. Truer words were never spoken.