---
Published on May 22, 2023
We don't normally associate Rolls-Royce with the word 'Sport.' Rolls has tended, with one or two notable exceptions, to shun motor racing to prove its engineering mettle (the Silver Ghost's reputation-making Austrian Alpine trial win in 1912 apart...). Still, here we are, standing in front of a tall, slim 1928 Rolls-Royce Phantom that incontrovertibly has the word 'Sports' in its name. How has this come to be?
"In the 1920s, Bentley was winning a lot of races, especially Le Mans, but Rolls-Royce was making all of the profits. Even so, Rolls-Royce was looking a little jealously at Bentley and so it decided to make some experimental cars," says Alexander Schaufler. Schaufler just can't seem to stop collecting historically fascinating cars - his line-up of classics is mind-boggling - but this Rolls is surely one of the most interesting.
"So Rolls-Royce looked at Bentley and said 'OK, now we make a sporting Rolls-Royce.' The first one they made was 10EX, which is now in the BMW museum. It had a very streamlined body, and the engineers were very pleased that they could get it up to 130km/h - this was not bad for the day, you know?"
The Rolls-Royce engineers weren't finished there, though. Three more EX experimental sports models were created - 15EX ("This was crashed some years later," says Schaufler), 16EX (one of those cars lost to history) and 17EX.
First Rolls-Royce to exceed 160km/h
The 17EX is the car Schaufler is standing in front of as we duck out of the way of yet another passing shower tipping its watery load on the front lawn of Villa d'Este, on the shores of Lake Como.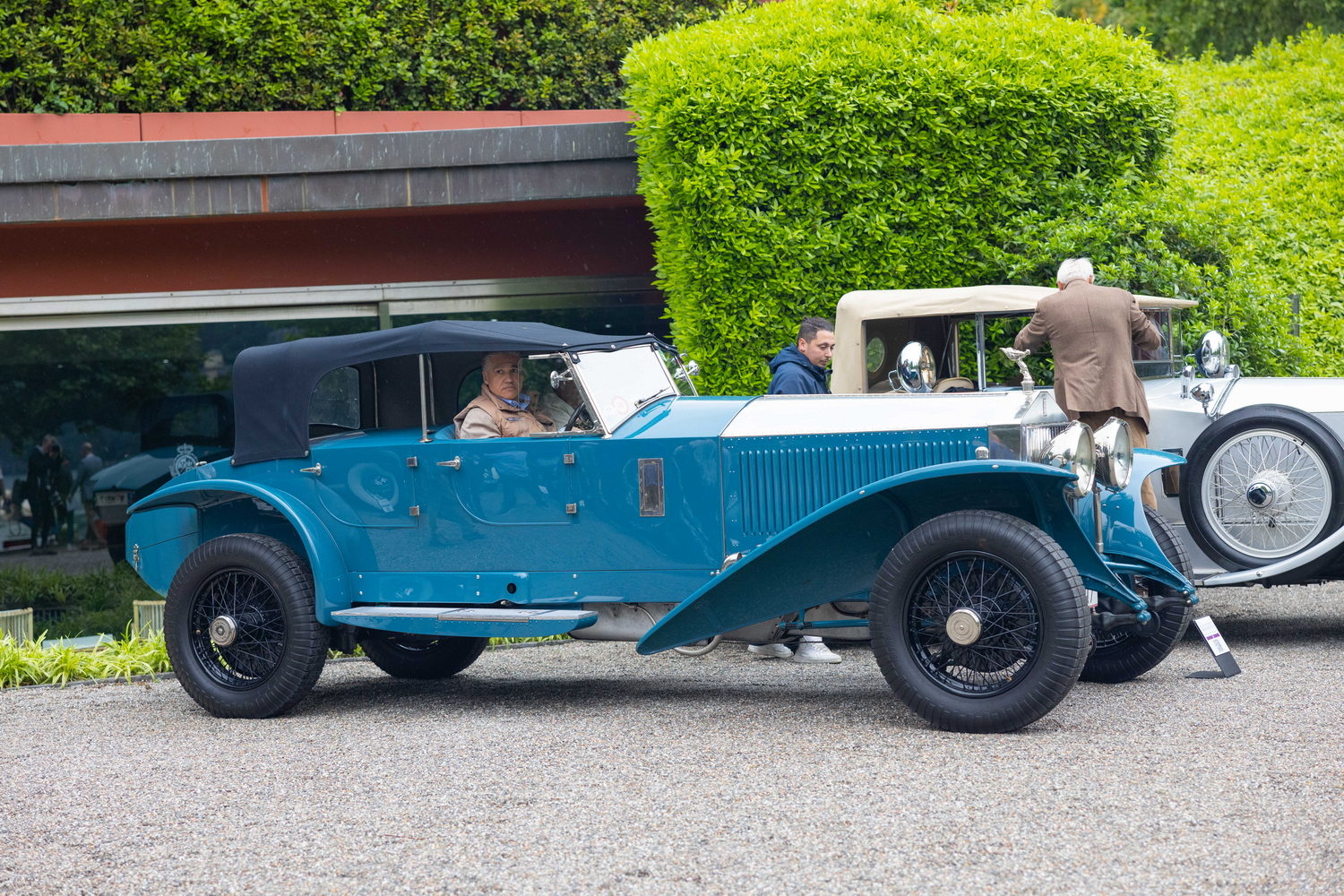 "17EX was the first Rolls-Royce to exceed 160km/h, 100mph," says Sahcufler proudly. "The body," he says, pointing to the slim, tapering, almost torpedo-shaped coachwork, "was made by Jarvis of Wimbledon, who at that time were also building the Bluebird land speed record cars for Sir Malcolm Campbell."
The penny drops - the Rolls 17EX's body is painted the exact same shade of azure blue as the incredible Bluebirds. This particular Phantom Sports is also unique in that it hasn't been modified back into a standard road-going form. That's because, once the Rolls-Royce development team was through with it, the next owner was the Maharajah of Kashmir... "He was only 33 years old and already owned 23 Rolls-Royces," says Schaufler. "So he said to Rolls-Royce that he wanted to have the car, but not if it had been put back to standard road specification. He wanted it to still be the experimental car." That means this is pretty much the only experimental Rolls-Royce that made it into private hands, untouched.
Well, almost untouched. While it still has its original 7.8-litre straight-six engine, the gearbox was altered before it was shipped to India. "The gearbox was changed because Kashmir is so mountainous, so it needed shorter gearing for the steep parts," says Schaufler. "So now the top speed is more like 130km/h." That doesn't seem to bother Schaufler, who's made good use of the car's short gearing for events such as the Rallye Des Alpes and the Flying Scotsman.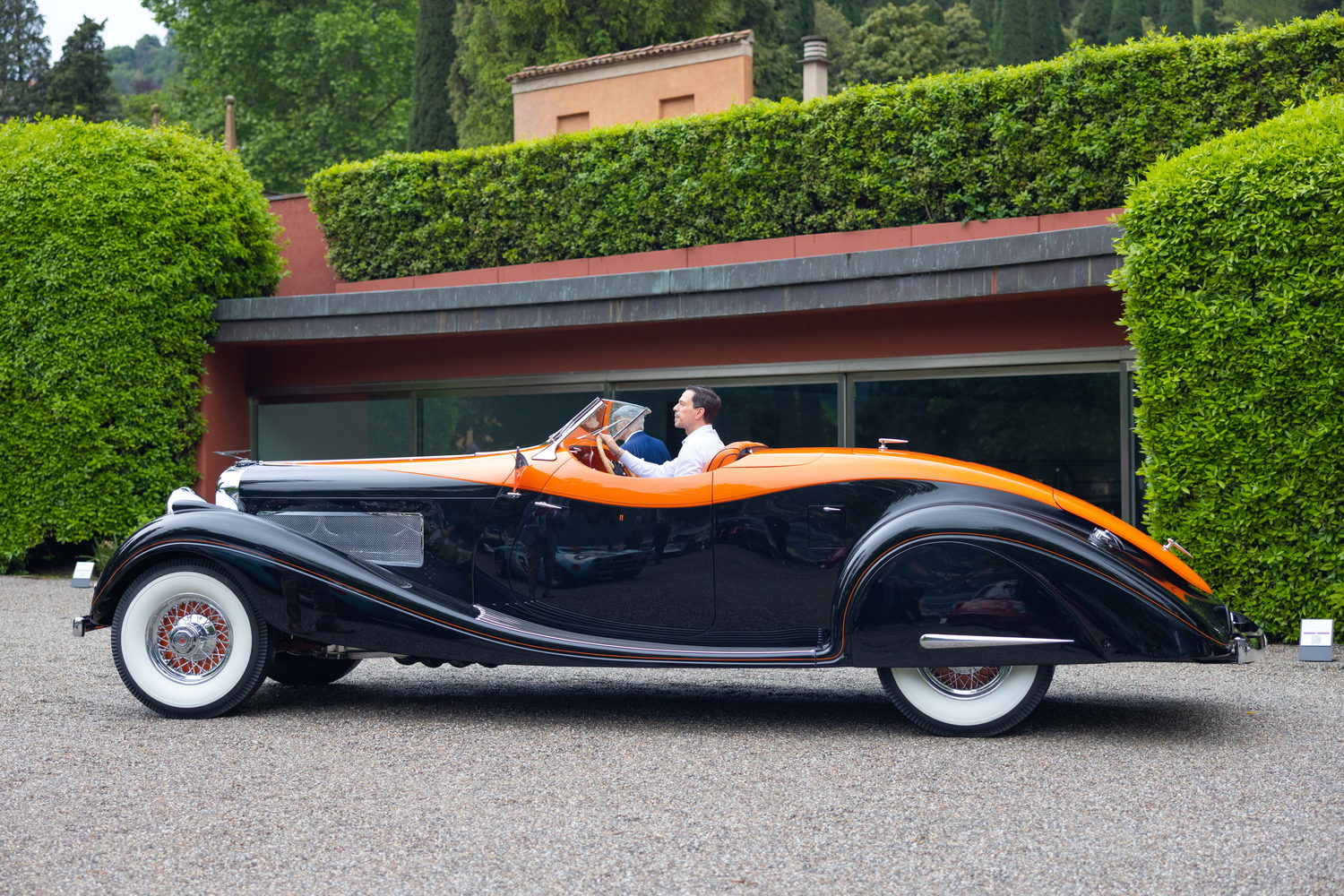 This is just an example, a singular one, of the magic of the Concorso. A handful of the world's rarest and most beautiful cars gathered in and around the beautiful stately home (nowadays a hotel) that looks out onto the lake. Schaufler's Bluebird-hued Rolls is part of a collection of invited cars that all at one time belonged to India's staggeringly wealthy Maharajahs, and they include an Al-Capone-style 1934 Packard Standard Eight and a vast black-and-orange Duesenberg SJ from 1935, which is tall enough and long enough to put a Range Rover in the shade.
Porsche celebrates its 75th
Just across the neatly groomed lawn from these cars are the Porsches. This may be a BMW-sponsored event, but Porsche has been invited in to celebrate its 75th birthday, and it's doing so in style. There's the famous 1970 Attwood/Larousse 917 Le Mans car in its grey, blue and red Martini livery. Next to it sits an aggressive 935 IMSA racer from 1979 with its gigantic rear spoiler and oft-imitated slant-nose.
Right beside that, Alois Ruf - founder of the famed RUF company that creates the most astonishing modified Porsche 911s - has arrived with the most un-modified Porsche you've ever seen. It's a 1963 prototype, replete with its short wheelbase and still badged as a 901, clearly built before Peugeot made an aggrieved phone call to Porsche about using numbers with '0' in the middle.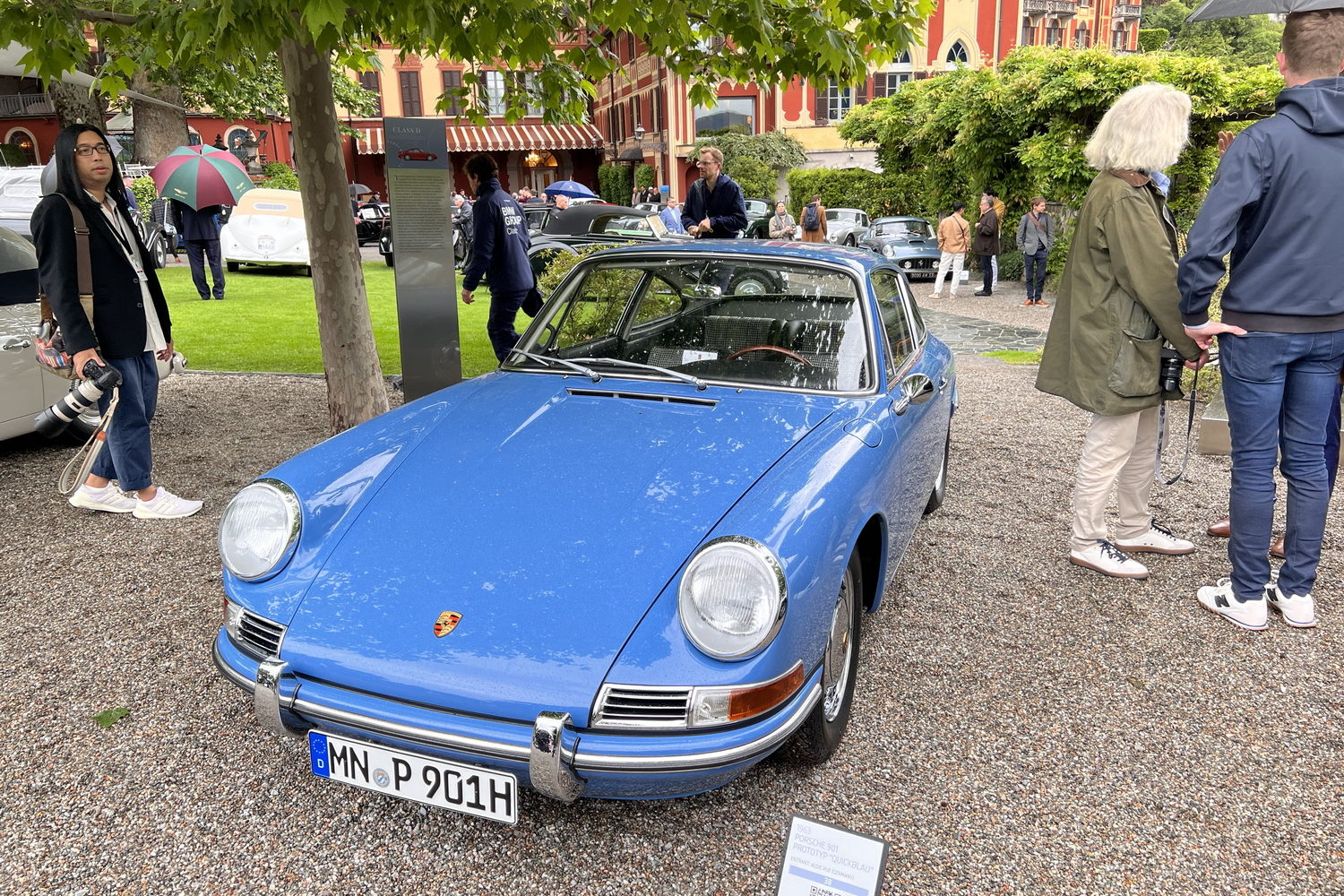 Want more? There's more. How about a Ferrari 330 GTC Speciale with unique bodywork ordered by the Princess De Rethy of Belgium, which features pop-up auxiliary driving lights (wild stuff for 1967) and a wraparound rear screen that clearly influenced later Dino models.
One-offs everywhere you look
It just happens to be parked next to the Citroen SM Espace, a one-off SM coupe made by coachbuilder Heuliez, with a t-top convertible roof and an interior clad in dark-green suede. Even the steering wheel...
The list goes on. Everything from Bugattis and Lamborghinis to a humble little Frazer-Nash coupe and a snorting Ford GT40. How could one pick a favourite from all this?
Our star of the event
Well, actually, I can, and I picked it almost straight away. It's the 1954 Cadillac Series 62 Ghia. One of only two that were built by the famed Italian design house and presented to General Motors as possible production models.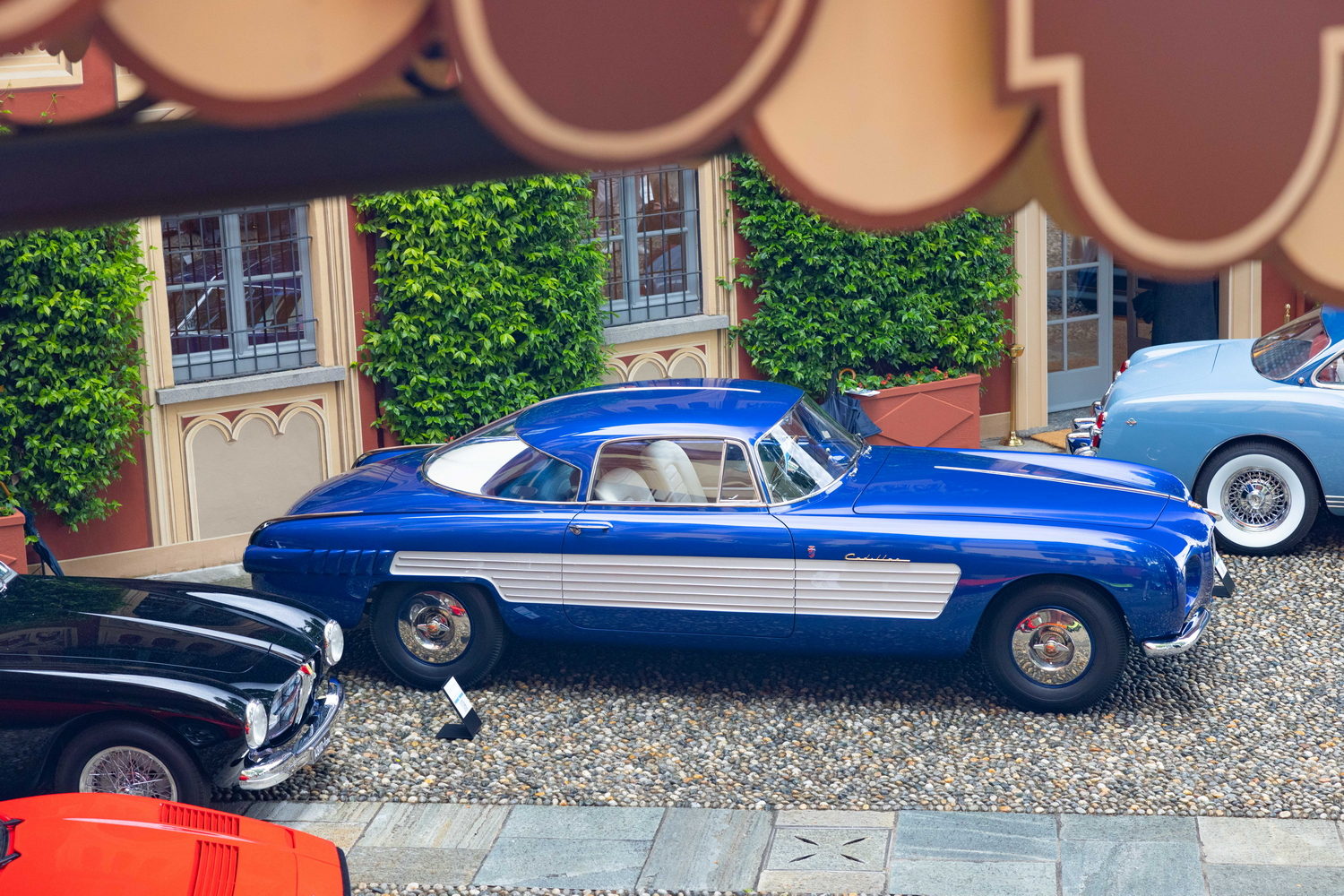 It's an intoxicating shape - fully 17 feet (5.1 metres) long - and one beautifully mixing the smooth, rounded curved of mid-fifties Italian design with the OTT excesses of contemporary Americana. It has seats that you could happily spend the rest of your days in and a combination of twin headlamps on either side of a rounded, egg-crate grille that could not be more jet-age if it tried.
American collector Lee Carr owns the car, and it has been restored by Steve Karakis, who told us that "It could have been Rita Hayworth's car." This is distinctly undocumented, but it is possible. Of the Ghia Cadillacs built, one was sold to Prince Ali Salman Aga Khan, who it's thought might have offered it to his then-wife Rita as a vast, V8-powered peace-maker, but the two were subsequently divorced anyway, so she may never have driven it.
"There are only two of these cars," says Steve. "The other one is in the Petersen Museum in Los Angeles. So this car used to be black, it was painted black and nothing fit right, but we found some of the original colour in the engine bay, and this is the first time it's been revealed in its original state."
The car, of course, has the massive V8 you might be thinking of - actually, it's a 331-cubic-inch engine, which equates to 5.4 litres - and uses a two-speed 'Hydromatic' gearbox. It slinks effortlessly through the throngs at Concorso, wafting silently where most other exhibits roar and growl. Even a brief bout of 'vapour lock', which causes a temporary halt in its progress, can't dim the appeal.
Which begs the question - why did Cadillac not offer the Ghia as a series production model, a halo-of-all-halos? "Well, Ghia presented it to GM, but GM basically said that a 17-foot sports car was not what they were looking for, especially with the Corvette coming up..." says Steve.
New concepts grabbing attention too
Cars owned by Maharajahs. Cars (maybe) owned by Rita Hayworth. Cars that have won at Le Mans. Cars that would sell at auction for the GDP of a small country. An event for the super-rich only? Well, possibly. Certainly, there was much champagne being served and plenty of expensive jewellery displayed alongside the cars, not to mention some seriously questionable sartorial choices, but then there were humbler options. There was a parade of original Minis, for instance, kicking off preparations for the International Mini Festival, which will be held in Florence this year. There were also modern concept cars on display, the coolest and most desirable of which was - with due apologies to the Bugatti W16 Mistral sat next to it - the Hyundai N Vision 74, a car dripping with seventies desirability.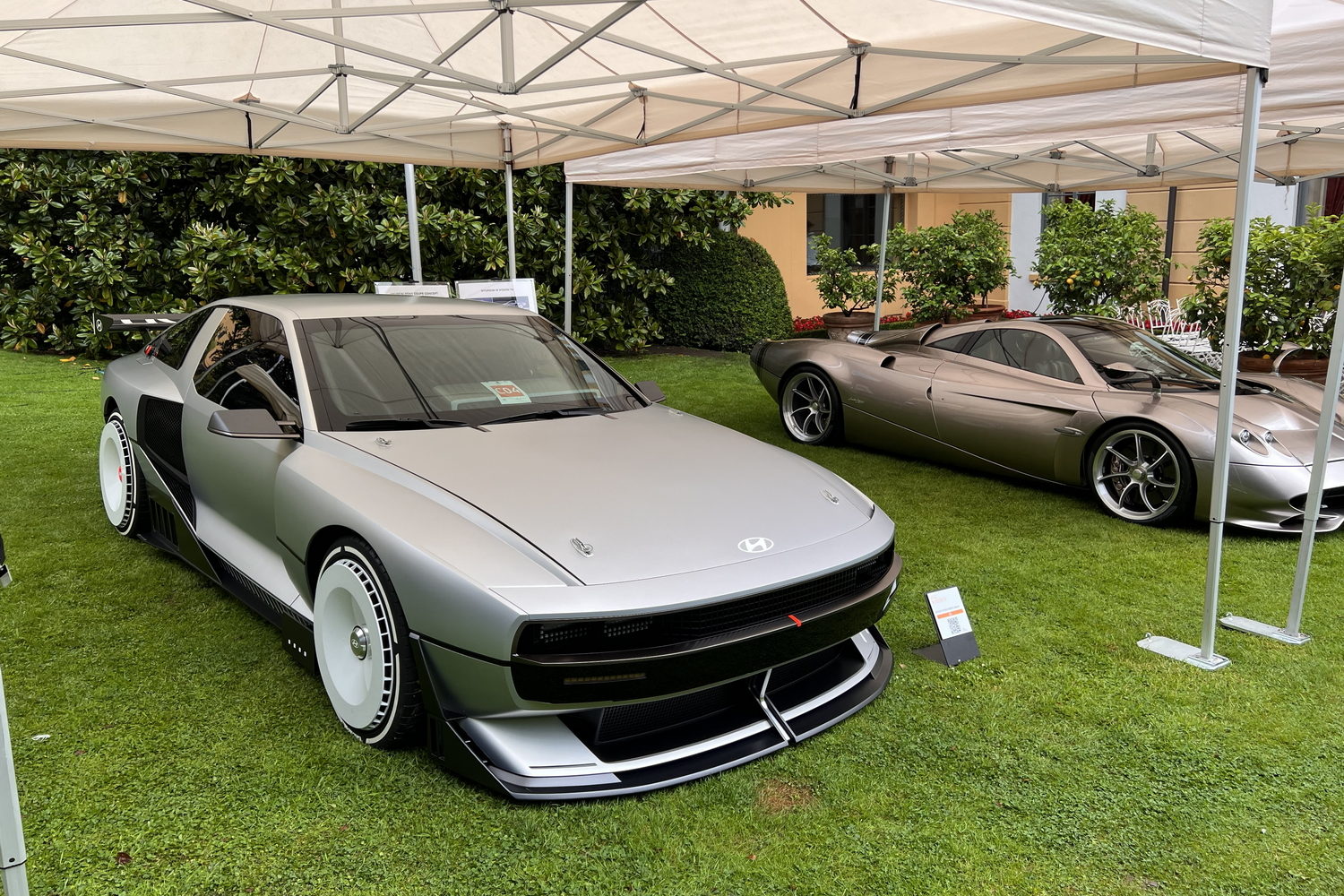 There was even a dinky, original Fiat Panda 4x4 Sisley, with pastel-coloured suitcases stacked on its roof rack. It seemed less like an official entrant and more like someone had just grabbed the best parking spot in the universe.
Ferrari favourite with the public
The winner of the coveted Coppa D'Oro - the gold trophy, voted for by the public - was actually something of a vanilla choice. The pale blue 1961 Ferrari 250 GT California, entered by the Keybridge Collection from Hong Kong, was certainly a beautiful car and apt to bring any fan of Ferris Bueller to their knees. Still, it seemed to me that there were far more interesting cars scattered about.
The overall event winner - Trofeo BMW Group Best of Show, which wins both a trophy and a one-of-a-kind watch from the famed A.Lange & Sohne company - was the massive orange and black Duesenberg SJ roadster, in full Great Gatsby specification, entered by William Lyon.
Alexander Schaufler's Phantom Sports Prototype picked up a prize, too: the 'Most Elegant Rolls-Royce' trophy, which seemed entirely appropriate. The prize for the most sensitive restoration went to another Rolls, the 1949 Silver Wraith Drophead Coupe with a body by James Young, entered by India's Yohan Poonawalla. Event sponsor Vranken-Pommery Champagne gives its own award for the 'most iconic' car, which went to Herr Ruf's Porsche 901. Perhaps the most appropriate trophy awarded was the Trofeo il Canto del Motore - the 'song of the engine' - which was awarded to the Martini-liveried 1970 Porsche 917 entered by the Count d'Ansembourg of Belgium.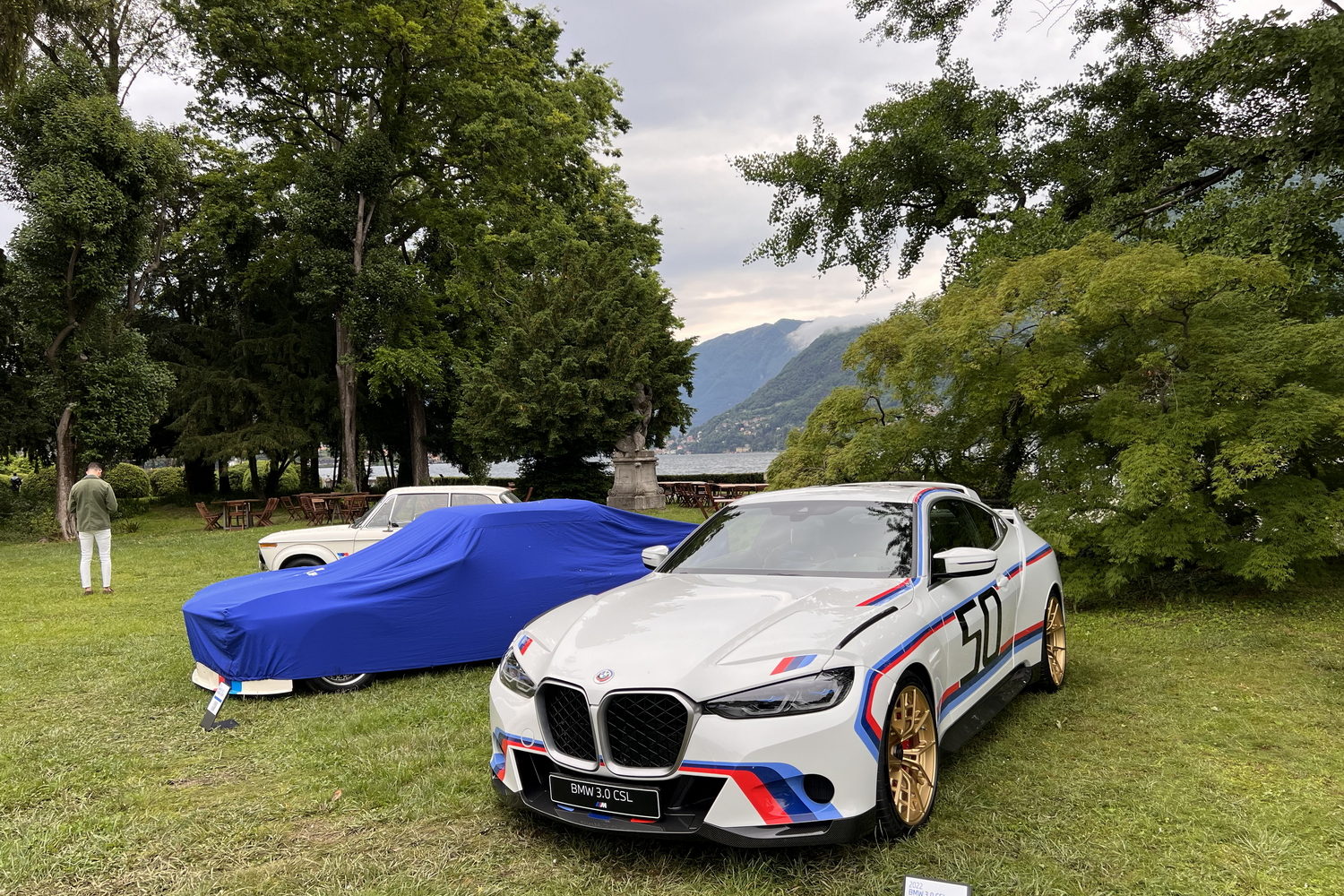 Whatever the winners and whatever the weather, the Concorso is an astonishing opportunity to see the rarest, coolest and most valuable cars of them all.