Four hundred and eighty five kilometres per hour. That's the magic number. That's the speed that the Hennessey Venom F5 is going to have to reach, not only to become the fastest road-going production car of all time, but to breach the magic 300mph barrier. Currently, that record is held by a Koenigsegg Agera RS at a speed of 447km/h - or 277.87mph. To truly beat the Koenigsegg, Hennessey's new carbon-chassis hypercar is going to have to go just under 40km/h faster and do so in two directions to set a verified average speed.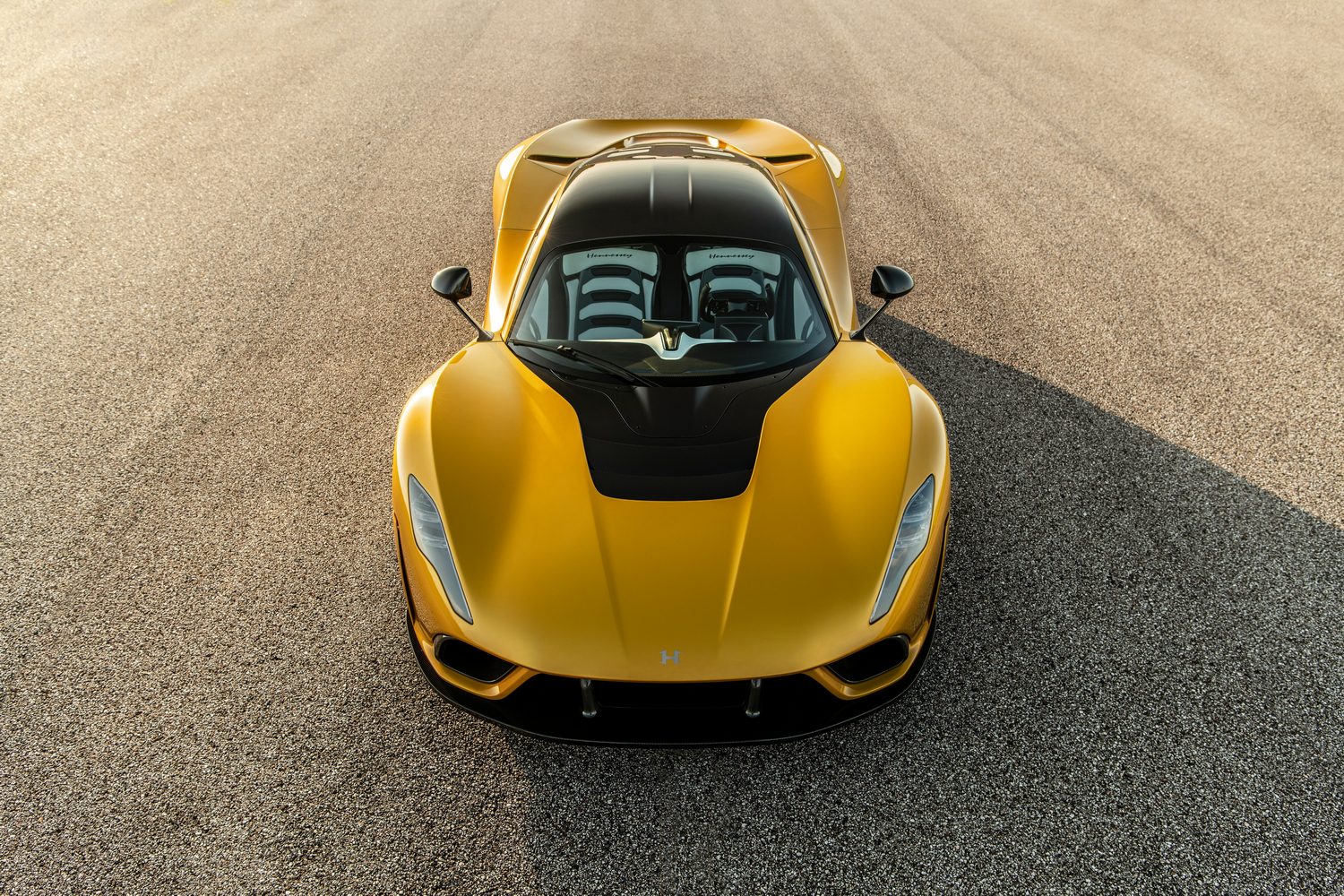 Looking at the Venom F5, you'd not doubt that the car can do it. It's hardly the most eye-searing design of all time, but to be honest it's all the more menacing for it. The Venom F5 is Hennessey's first ground-up hypercar - previous cars to bear the Venom name have been based on bought-in Lotus chassis, but the F5 gets its own home-grown carbon-fibre platform and body. In style terms, it looks like a Ferrari F8 Tributo that's been pumping copious iron at the gym. It's probably been packing in the whey protein too.
The engine is a 6.6-litre twin-turbo of Hennessey's own design, based on the expertise the company has built up over the past three decades tuning and tweaking and improving engines from the likes of Ford, Chevrolet, Cadillac, Lexus, Porsche and even Ferrari. It develops - wait for it - 1,842hp and 1,617Nm of torque. So far, it has pushed the Venom F5 to a claimed 435km/h on the Space Shuttle runway at Kennedy Space Centre in Florida, but even that massive stretch of tarmac isn't long enough for the F5 to truly stretch its legs.
"The big challenge in pushing a road car this fast is working out how to safely do it," says John Hennessey when we sit down for a chat with him at the Goodwood Festival of Speed. The F5 has just burbled menacingly out of the supercar paddock, heading off to get fuelled up for its next run up the Goodwood hillclimb.
That 1.7km stretch of narrow tarmac must seem absurdly puny to the Venom, something that Hennessey confirms. "A runway is just not long enough for this car," he says. "Even when we've tested on that NASA runway, it's just not long enough. We're just never going to find the v-max of the car in that environment. So we're currently working on securing a stretch of public highway in Texas, which we could close down for a short time, enough time to make the run. We think we need five, maybe six miles to hit v-max and bring the car safely down to a stop."
A big part of the challenge is simply the size of Hennessey as a company compared to the corporate behemoth that it is ranged against. While one major rival - Swedish-based Koenigsegg - is, like Hennessey, a relatively small operation, the other big player in this ring is Bugatti, which is backed by the corporate might of Volkswagen. Hennessey by contrast runs a company with only a little more than 50 employees, alongside his wife, Hope.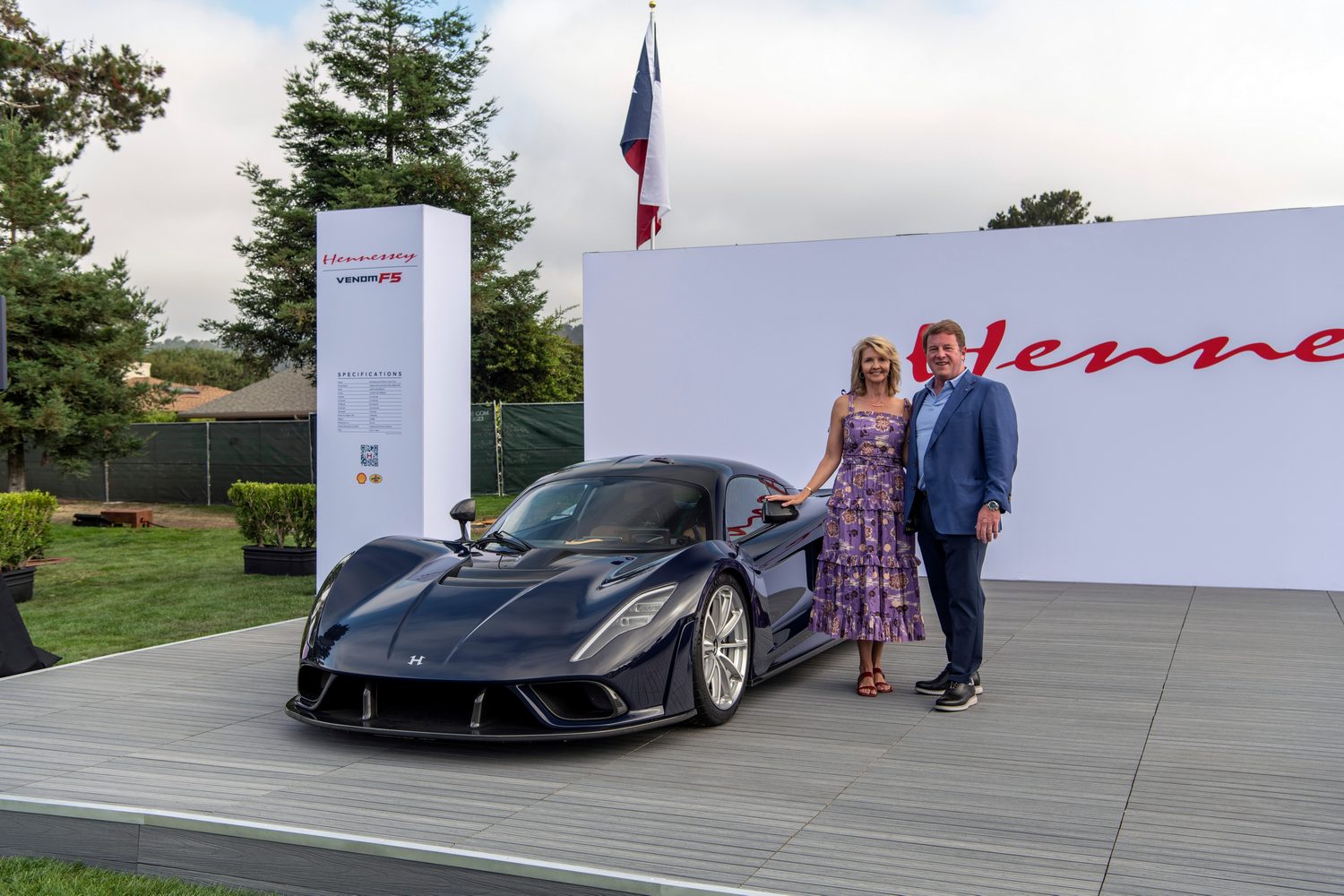 "Does Bugatti and VW have greater resources than we do?" Hennessey asks, rhetorically. "They might, but I don't know if they're as clever as we are. I think being a smaller company has helped us to think outside the box a little bit, and to do things differently. We'll see what happens."
Is being a small company that's sticking it to a much larger one part of the appeal for him, I ask? "Of course" Hennessey replies. "Giving the middle finger to the man, you know. Having contempt for authority and people in high places, that's kind of how I grew up. And we still kind of roll that way. I'm Irish, so that's kind of in the DNA." Hennessey's family has roots in Cork, and when he speaks like this you can really sense the Rebel County blood in his veins.
"At the same time, we get along very well with the guys from Koenigsegg, from Bugatti, from Ferrari," he says. "But yeah, it'd be fun to go out and go one notch higher than them."
One thing Hennessey is unlikely to do is to take the Venom F5 racing. As we chat, Porsche is debuting its new Le Mans racer, the 963, and Ferrari is starting to drop hints about its own entry into the Le Mans Hypercar class. Hennessey, though, reckons that's not the right fit for his brand, although he's not necessarily ruling it out. "I think when you look at Le Mans, and the Balance of Power rules, there's a lot of regulations, there's a lot of politics," he says. "That's why I like going for v-max records - there are no rules, so that's a place in which we're more comfortable operating. But hey, to build a car to compete at Le Mans would be incredible. Look at what Carroll Shelby did all those years ago, so I would never say never to that opportunity, but right now we're focused on building cars for our amazing clients."
As we speak, back in the town of Sealy, Texas, Hennessey's team is putting the finishing touches to Venom F5 number eight, and the man himself hopes to have between 12 and 14 cars delivered by the end of this year, out of a total production run of 24 coupes, with another 30 targa-topped roadsters to follow - along with a small number of track day specials with high-downforce aero packs.
Aside from the Venom F5, Hennessey is also busy building its latest tuned Ford pickup, a 560hp version of the Ford F150 Raptor, called the VelociRaptor 600. The company is also working on a 415hp version of the new Ford Bronco off-roader and there's even a 1,000hp version of the Chevrolet Camaro called 'The Exorcist' because it was designed specifically to 'slay the Dodge Demon.'
Those are just a representative sample of the 15 tuned vehicles from Ford, Chevrolet, Dodge, Ram, Cadillac and Jeep that Hennessey currently offers. As if all of that, and getting the Venom F5 built, sold and up to warp speed wasn't enough, Hennessey is also embarking on an electric revolution. Hennessey being Hennessey - man and brand - he's going about it in a slightly different way to anyone else...
"Keeping Hennessey relevant in an electric age was one of the reasons I pushed for Deep Space to be our next car, our third car down the line," Hennessey tells me. "While I don't think that, in my lifetime at any rate, the internal combustion engine is going to go away, I did want to put down a Hennessey stake in the electric world. We want to show the world, and the automotive world in particular, that we could do electrification very well, but in a very different way. We don't just want to compete, we want to dominate."
What's Deep Space? It's an electric car that's very, very different to anything you've ever seen. Hennessey fishes out his phone and swipes to a sketch of the car. For a start, it has six wheels, each with its own electric motor for six-wheel drive and total power of more than 2,000hp. Hennessey has done six-wheel-drive V8 pickups before, but the Deep Space is low and dart-shaped, with big gullwing doors and a style that's more Thunderbirds than VelociRaptor. "We've spent more than 30 years building some of the fastest and most exciting vehicles in the world. This mantra will continue for our next 30 years. We believe that 'Deep Space', with six electric motors combined with six driven wheels, could be the world's quickest accelerating four-seater from zero to 200mph" says Hennessey.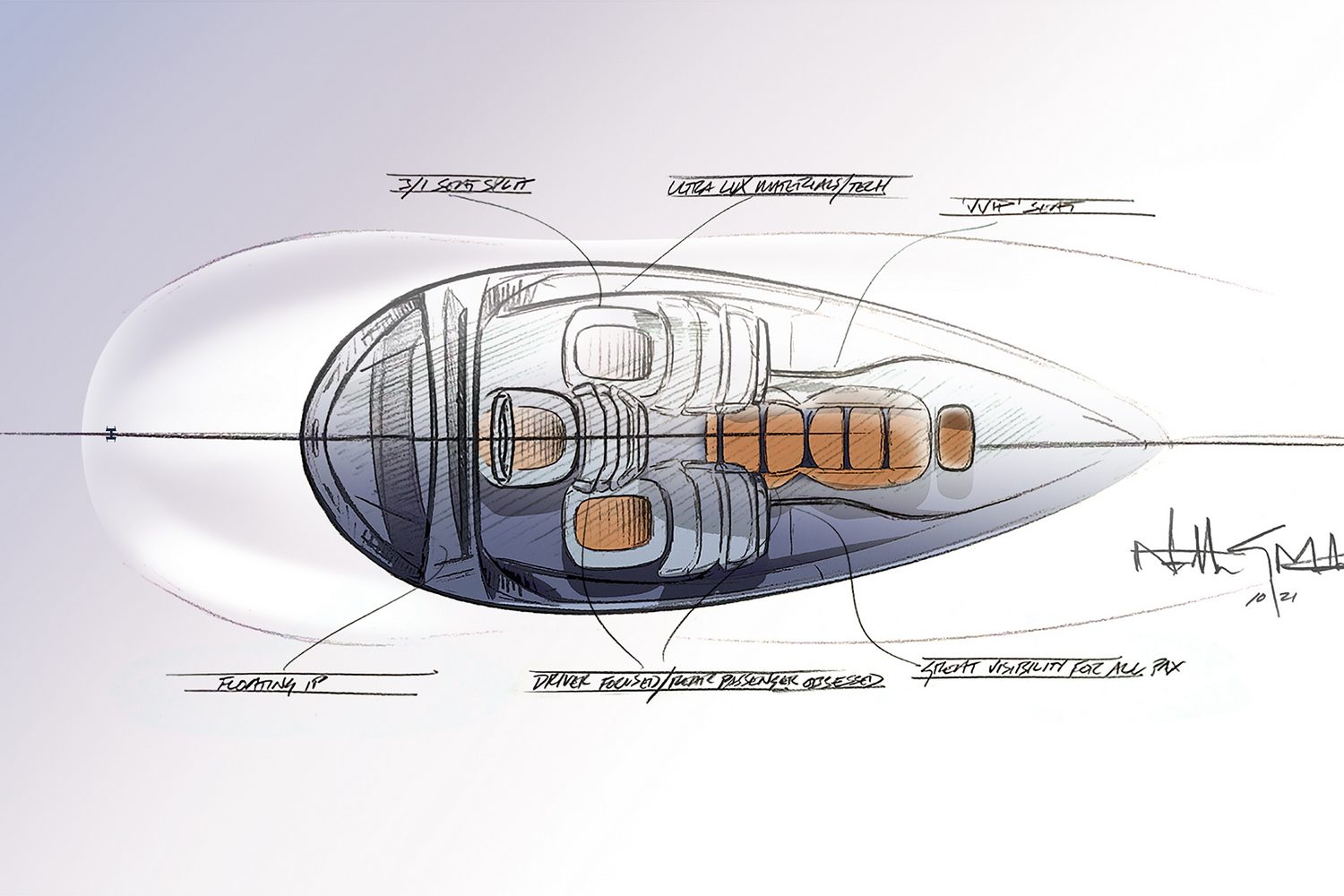 Even the cabin is wild, with a central driving position flanked by two passenger seats, and a fourth seat directly behind the driver that is for 'VVIPs' according to Hennessey - it's designed to aviation standards and lies flat like the first-class seat on an airliner.
Hennessey plans to start production of the Deep Space in 2026, with a price tag of US$3 million each. Given that the Venom F5, priced at US$1.9 million each has already sold out, even though its top speed has not yet been officially proven, would you bet against Hennessey pulling off the Deep Space?
"It's really driven by what the customer wants," Hennessey tells me. "Ultimately, the old Steve Jobs saying is, the customer doesn't always know what they want until you show it to them. So when we got an F5 client, and we showed them the pictures of the Deep Space they're like; 'How soon can I get that?' and suddenly, all their childhood dreams have come true. A picture says about a million words, right?"